Proposed UK long-haul start-up Global Airlines has agreed terms to acquire three Airbus A380s, adding to an initial aircraft disclosed last month.
Global Airlines is aiming to commence transatlantic operations using the double-deck type from spring next year.
The company is claiming "significant backing" from investors as well as the parent firm Holiday Swap.
It had revealed at the end of May that it was acquiring an A380 from Doric Aviation, and that it planned to take three more.
Global Airlines has not detailed the value of the transactions, although it indicated that the first A380 was picked up for an "eight-figure" sum.
The A380's catalogue price had been around $450 million while the jet was in production. Airbus stopped delivering A380s in 2021.
Global Airlines says it is "developing plans for their refit and return to service". It adds that it aims to "reinvigorate the flying experience" with the "unrivalled spaciousness" of the A380.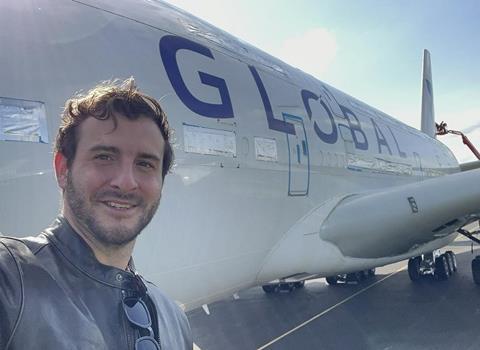 "The A380 is the best aircraft in the sky, and we will continue to look for further acquisition opportunities," says entrepreneur James Asquith, the would-be carrier's chief executive.
Global Airlines has been gradually recruiting personnel to senior positions.
Its latest appointments include former XL Airways chief operating officer and SR Technics managing director Pierre Madrange, as well as Capt Ian Black – both will join an advisory board to provide airline operational management support.
London City airport corporate affairs director Liam McKay is also transferring to the company.
Global Airlines has already identified Richard Stephenson as its chief commercial officer, while it has named several other figures to key roles – including former US Air Force assistance secretary Kevin Billings as advisory board chair, and ex-Emirates pilot Cees van Dooren as A380 project manager.
Former Rolls-Royce chief customer officer Jacqueline Sutton and ex-EasyJet captain Emma Henderson will also join the advisory board.