Ural Airlines expects removal of the Airbus A320 which force-landed in a field outside Novosibirsk could take several months, and says storage work on the aircraft will be necessary in the interim.
The crew carried out an emergency landing in the field on 12 September after exhausting fuel reserves while attempting to divert to Novosibirsk from Omsk.
None of the 167 occupants was injured.
Ural Airlines says the aircraft sustained minor damage but says it remains in good condition and will "most likely be able to fly in the future".
It states that a small quantity of soil was ingested by the CFM International CFM56 engines and several fan-blades were slightly damaged.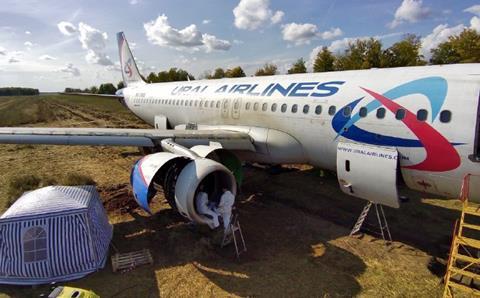 Once an assessment of aircraft systems has been conducted, the airline says, the affected blades will be replaced. The work programme also covers the landing-gear attachment points.
Wooden platforms have been prepared on which the aircraft is being positioned to keep it stable.
The diversion had been triggered by a hydraulic failure on approach to Omsk.
Ural Airlines, which has sent several engineers and technicians to the site, says the cause of the hydraulic malfunction has been identified, and addressed.
The cockpit-voice and flight-data recorders were removed from the aircraft, as part of the investigation, while the evacuation slides have been returned to Ekaterinburg for servicing and eventual re-installation.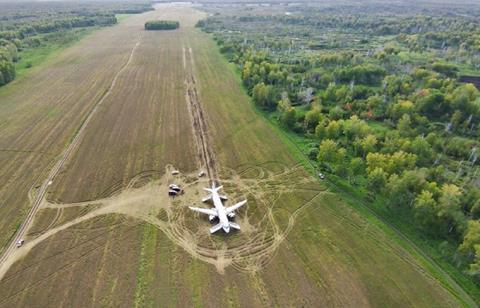 Ural Airlines says the aircraft will remain on the field until it is "transported", without elaborating on how it will eventually be moved.
But it states that a fence is being built around the jet, and temporary shelters constructed for security personnel tasked with guarding the aircraft.
Ural Airlines general director Sergei Skuratov stresses that the airline – which operates 52 Airbus single-aisle aircraft – invests heavily in training and maintenance, and that it only uses authentic spares on the fleet.
While obtaining the correct components is "very difficult", he insists: "We will never allow 'wrong' spare parts to be used. All the spare parts used on our aircraft are certified."