Pressured US freight operator Western Global Airlines has voluntarily filed for Chapter 11 bankruptcy protection, as it seeks to implement a restructuring plan to cut debt and stabilise the business.
Western Global, which operates Boeing MD-11 and 747-400 freighters, had disclosed in July that it was looking at options to strengthen the company as it faced financial burdens from a weak air cargo market.
It has reached an agreement with a number of stakeholders and has secured commitments for more than $77 million in debtor-in-possession funding from investors including founder and chief executive Jim Neff.
The plan has the support of bondholders who own more than 85% of outstanding senior unsecured notes due in 2025.
"This agreement ensures that Western Global Airlines continues to operate without interruption and meets customer needs with safe, effective, on-time service delivery," the carrier states.
It says the debtor-in-possession financing will support the airline's operations through the Chapter 11 process and give it a "strong balance sheet" once it emerges.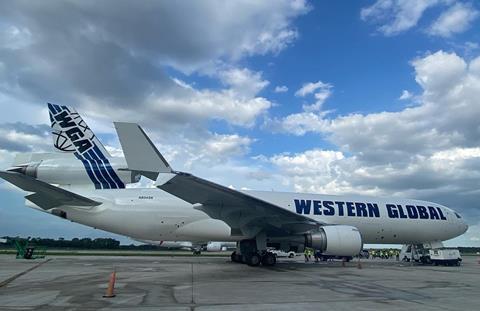 Western Global adds that the restructuring will reduce its debt by more than $450 million, and inject additional capital into the airline.
"I am, and always will be, loyal to [Western Global] and its employee team," insists Neff. "My number-one priority is preserving the long-term viability and value of [the airline] and protecting our employees.
"All my objectives regarding the company align with this overriding goal."
Neff purchased $115 million of secured debt at the end of June, for $45 million, which improved the company's lending conditions.
He is also passing on the $70 million benefit to other stakeholders, and foregoing a number of rights he had as the debtholder, in order to support the restructuring.
"I am confident that this plan will tremendously strengthen our financial position and ensure a better future for Western Global, our people, and our customers," he says.
The carrier says the restructuring plan will achieve a number of aims including an 86% deleveraging of the balance sheet, and new investor partnerships.
Western Global adds that it has filed motions with the US bankruptcy court to support ordinary operations, and expects them to be approved within a few days.