Uzbekistan Airways is introducing a pair of Airbus A330s, to support expansion of the airline's long-haul network.
The twinjets are being acquired through a lease with Lithuanian-based operator Heston Airlines.
Uzbekistan Airways says it brought in the first of the pair, an A330-200, on 21 April and will take a second on 3 May.
The carrier is putting the initial jet into service on routes from Tashkent to Istanbul, Dubai and Jeddah.
It has identified the first aircraft as LY-TKL, a Rolls-Royce Trent 700-powered airframe which was originally delivered to Aeroflot in 2009.
The jet is configured with 18 business-class and 248 economy-class seats, and Uzbekistan Airways says the first flight, to Istanbul on 23 April, carried 237 passengers.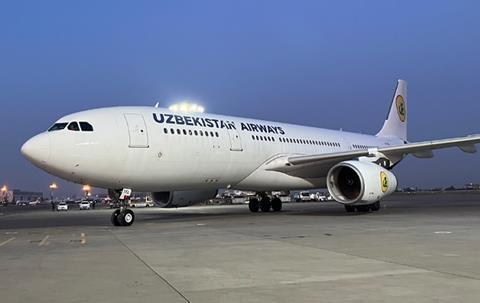 Uzbekistan Airways says it opted to lease the two A330s in order to "implement the ambitious plans" of the carrier regarding expansion of the fleet and broadening the route network.
It has recently agreed to order 12 additional Airbus single-aisle aircraft – comprising four A321neos and eight A320neos – to modernise its operation.
Uzbekistan Airways says it has been "gradually" restoring its network, with services to Paris, Milan, Beijing, Tokyo and Jakarta, with flights to Bangkok starting in June.