UK carrier Virgin Atlantic aims to explore development of a short-haul electric vertical take-off and landing (eVTOL) network initially focused on London Heathrow, London Gatwick and Manchester.
The airline's plans for the network are part of its new partnership with UK-based Vertical Aerospace under which the carrier will have the option to acquire up to 150 of the manufacturer's new fully-electric eVTOL aircraft, the VA-X4.
Virgin Atlantic envisions a future joint venture with Vertical Aerospace to establish the network, on which the VA-X4 fleet would operate under the airline's brand.
"The goal is to enable sustainable, price competitive, regional connectivity across the first and last 100 miles of the customer journey," says the carrier.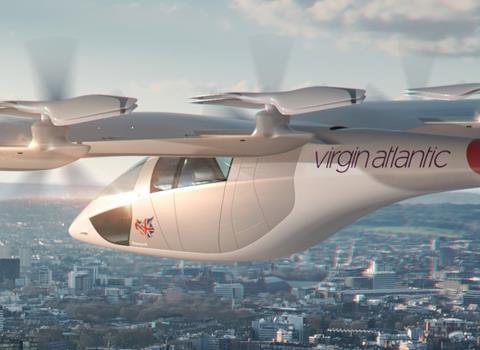 Virgin Atlantic specialises in long-haul operations from the three UK target airports, although its services from Gatwick remain on hold as a consequence of the current air transport crisis.
The airline says the VA-X4 has "huge potential" to enable zero-emissions transfer to Heathrow, claiming nearly 40 towns with populations of more than 100,000 lie within a 100 mile (160km) radius of the airport.
Virgin Atlantic estimates that an eVTOL flight from Cambridge to Heathrow could slash the journey time from 90min to just 22min, given the VA-X4's proposed speed of 175kt (325km/h).
It says the aircraft – able to seat four passengers along with a pilot – could provide the option of quick connections to 7.7 million passengers outside of the UK capital.
Vertical Aerospace is planning a maiden flight with the prototype VA-X4 this year and commercial operations, following certification, are planned for 2024.
Its chief executive, Stephen Fitzpatrick, says the two companies can "revolutionise urban mobility" in the UK and "completely change how people think about flying".
"This is the most exciting time in aviation for almost a century," he adds.
Virgin Atlantic chief Shai Weiss says the companies' tie-up will combine the carrier's "operational excellence" and "customer experience" with the manufacturer's design and engineering knowledge, to "pioneer sustainable and zero-emissions air travel" in the country.