Mexican low-cost carrier Viva Aerobus has tentatively signed for another 90 Airbus single-aisle jets, potentially taking its order total to 170.
The additional 90 aircraft are A321neos which will be configured with 240 seats. Deliveries will commence in 2027.
Airbus says the twinjets are the subject of a memorandum of understanding with the Latin American operator.
"The technology and operational efficiency of the A321neos will improve our operational reliability, on-time performance, and provide an unmatched passenger experience," says Viva Aerobus chief Juan Carlos Zuazua.
"We expect to drive further cost-savings which will reflect in lower air fares and strengthen one of our most important advantages – having the lowest cost in the Americas."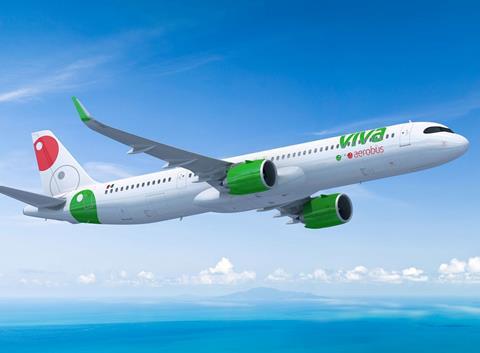 Viva Aerobus has already taken delivery of 15 A320s and 20 A320neos, as well as 19 of the 45 A321neos from a previous agreement.
Its current A320neo-family fleet is fitted with Pratt & Whitney PW1100G engines, and the carrier is staying with the US manufacturer for the follow-on aircraft.
"We have a long history with Viva Aerobus, starting with their [IAE] V2500-powered A320s in 2014," says P&W commercial engines president Rick Deurloo.
"With GTF engines delivering world-class fuel efficiency, we are pleased that Viva Aerobus continues to depend on us as they grow their airline with the most sustainable engines for single-aisle aircraft."