Russian logistics specialist Volga-Dnepr Group has expressed interest in the potential for a freighter version of the Irkut MC-21.
Representatives of the cargo firm toured the MC-21 during the MAKS 2021 Moscow air show.
The MC-21 family is designed for passenger layouts of 150-211 seats.
But Volga-Dnepr notes the "wide cabin" of the twinjet and says "interest was expressed" in the possibility of developing a freighter variant.
"Volga-Dnepr Group could act as a potential launch customer for cargo versions of the MC-21," it adds.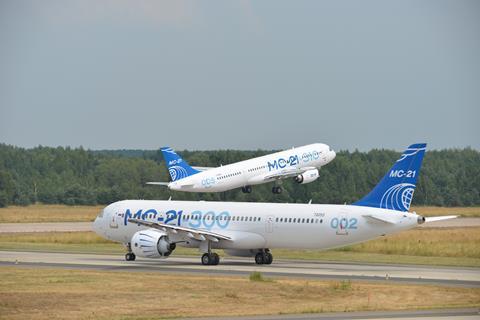 It believes Irkut is in an "advantageous position" for launching a freighter version, given the shortage of freight capacity in the market and a "growing demand" for cargo aircraft.
Two passenger variants of the MC-21 are undergoing certification, the -300 with Pratt & Whitney PW1400G engines and the -310 with Aviadvigatel PD-14s.
Volga-Dnepr uses a fleet of Antonov An-124s, Ilyushin Il-76s and Boeing 747s for outsize transport, as well as 737s through the Atran division.