Volga-Dnepr has reportedly threatened legal action against the Canadian government over its seizure of one of its Antonov An-124 freighter aircraft.
According to Russia's Interfax news agency, the group sent a letter to Canadian authorities – including prime minister Justin Trudeau – asking for the dispute to be resolved amicably.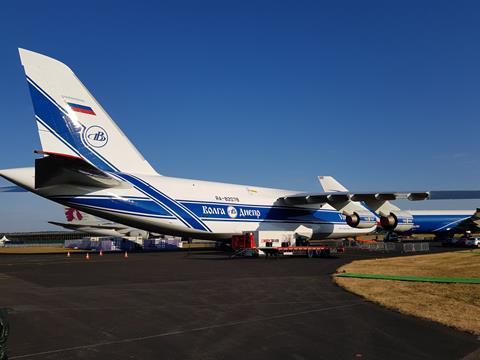 However, the company threatened legal action if an agreement could not be found.
"If the dispute is not resolved within six months of Canada's receipt of the notification, Volga-Dnepr Airlines will formally initiate arbitration proceedings. Volga-Dnepr remains open to negotiations with Canadian representatives to resolve the issue and return the aircraft," the carrier is quoted as stating.
The airline also pointed out that the aircraft was carrying Covid test kits from China to Canada when a notice to airmen (NOTAM) was issued prohibiting Russian aircraft from using the country's airspace.
As a result, the aircraft has been grounded at Toronto Pearson airport since 27 February last year. This year the An-124 was seized by the Canadian government as part of sanctions issued in response to the war in Ukraine.
In June, Russia's Foreign Ministry spokeswoman Maria Zakharova said the aircraft has been illegally detained and said its seizure was cynical and shameless theft.
This story originally appeared on Air Cargo News