If all goes to plan, by this time next year Canadian regional carrier Harbour Air will make history as the first airline to fly paying passengers on an all-electric aircraft.
The company hopes to begin revenue flights using a heavily modified, electric-powered De Havilland Canada DHC-2 Beaver floatplane in summer 2022. The route has yet to be announced, though the inaugural flight is planned to coincide with the Formula E electric car World Championship race in Vancouver next July.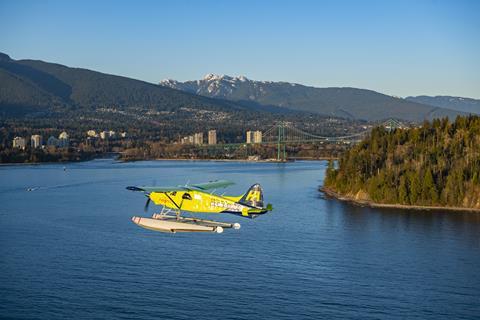 Retrofitting a single-engined Beaver – an aircraft introduced into service in 1948 – with a high-tech battery-powered electric motor may seem an unlikely first step for the futuristic electric aviation industry. The sector might be expected to launch electric flight with a clean-sheet design optimised for electric propulsion.
But because clean-sheet designs must overcome mountainous regulatory and technical challenges, converted types like Harbour's Beaver are poised to lead the electric-aircraft revolution, perhaps springboarding a remake of commuter and regional aviation, say aircraft operators, aviation manufacturers and industry analysts.
"It's the same process that you would go through to verify any change in propulsion system, like when we converted from piston aircraft to turbine," Harbour Air chief executive Greg McDougall says of the Beaver project. That well-worn regulatory path ought to provide a smooth transition to an electric motor as well, he adds.
Experts say many advantages of electrification, including operating costs that might be 20 to 40% lower, can likely be obtained quicker by equipping already certificated types with electric propulsion systems. Such modified aircraft can possibly prove out the electrification business case, serving as a catalyst for clean-sheet types – a growing number of which are in the development pipeline – that will be cheaper to operate, carry more passengers and have greater range.
Particularly in the USA, electric aircraft, when combined with ubiquitous and underutilised regional airports and an industry push to make aviation more environmentally friendly, could change how Americans travel on journeys less than 500 miles (805km), industry supporters say.
McKinsey & Company estimates there are more than 12,000 small commuter-type aircraft worldwide with enough airframe life left to justify electric conversions. Most are nine- to 19-passenger aircraft, such as single-engined Cessna Caravans and twin-engined De Havilland Canada DHC-6 Twin Otters. The electric powertrain replacement opportunity could be worth up to $12 billion for companies doing the retrofits, the consultancy estimates.
Harbour Air already swapped the Pratt & Whitney P-985 Wasp Junior piston engine in one of its Beavers for a 750hp (559kW) electric propulsion system made by Everett, Washington-based Magnix. The airline flew its prototype for the first time in December 2019.
The company plans in August to begin retrofitting the Beaver with an upgraded electric motor from Magnix, and a new, lighter battery pack provided by Swiss company H55. Harbour is seeking a supplemental type certificate for the change from Transport Canada.
The design should allow the typically six-passenger Beaver to carry at least three or four passengers, plus a pilot, for a 30min flight – with 30min of fly time in reserve, McDougall says.
"That may not sound all that grand, in terms of payloads and [range]," he adds. "But… everything is developing very quickly. Battery technologies are advancing quickly."
RAPIDLY IMPROVING BATTERIES
The electric car industry is a testament to battery potential. The cost of lithium-ion battery packs declined 89% from 2010 to 2020, according to research service BloombergNEF. What's more, average battery energy density – the amount of energy stored per kilogram – is increasing an average of 7% yearly. Electric cars will reach price parity with their fossil-fuel competitors in the USA and Europe in 2022, projects BloombergNEF.
Harbour Air's operation is suited perfectly for "eBeavers" because most of its routes are short hops, including its most-popular flight – the 30min commuter run between Vancouver and Victoria, British Columbia.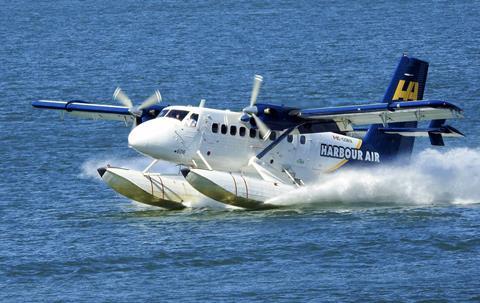 The latest configuration of the electric Beaver "gets us to a place where we can actually use the aircraft in an economically viable sort of route," McDougall says. Harbour has not disclosed the energy density of the upgraded propulsion system, but the density will be more than the 135Wh/kg lithium batteries that powered the demonstrator in 2019, he states.
McDougall envisions electrifying Harbour Air's entire fleet, which now includes 22 DHC-3 Turbine Single Otters (which seat up to 14 passengers), three DHC-6 Twin Otters (19 passengers), 14 DHC-2 Beavers (six passengers) and one Cessna Grand Caravan EX (nine passengers).
"Once you've proved and certified the propulsion system for a Beaver, it's not that hard of a step to scale it," he says. "You're using the same technology… It might be a bigger battery capacity or a larger motor, but all of the critical parts are the same."
REDUCED OPERATING COSTS
While electric aircraft operating costs remain unproven, industry pioneers insist their designs will deliver significant savings.
Electric systems have fewer moving parts and operate at much lower temperatures than gas-burning powerplants, meaning less wear and tear, and consequentially less maintenance. They are also more energy efficient than gas engines – they convert a greater percent of electric energy into power than the percent of energy in fuel that gas engines convert into power. Operators will still need to pay for energy in the form of electricity, but electric powerplants need less energy to complete the same work.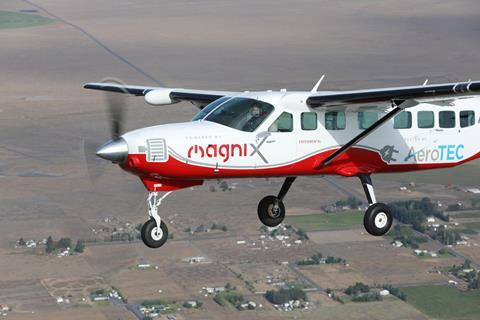 "From what we're seeing on these types of commuter operators, about 50% of their hourly cost is fuel and maintenance," says Magnix chief executive Roei Ganzarski. Operating cost reductions of 40 to 80% are possible, he says.
He estimates a single-engined Grand Caravan burns an average of about $424 in fuel during a 1.5h flight. An electric-powered Grand Caravan, however, would use a mere $24 in electricity.
Ganzarski says maintenance savings could be more significant.
"It's such a simple, sophisticated technology, that cost goes away," he says. "The cost of maintenance is not just the direct cost of maintenance, but it's also the fact that when the plane is in for an overhaul or for service… it's not creating revenue."
Robin Riedel, partner with McKinsey, says 20-40% reductions in operating costs seems likely. Harbour Air's McDougall says some potential savings are difficult to project, though he thinks they could be substantial.
The possibility of quickly snatching up operating savings is spurring other retrofit projects.
Magnix is working with Sydney Seaplanes of Australia to obtain a supplemental type certificate for an electric-powered Grand Caravan by 2023. An earlier version of that "eCaravan" made its maiden flight in 2020 and is capable of carrying 4-5 passengers on flights up to 87nm (161km), with additional reserve power, the company has said.
In March, Norwegian regional carrier Wideroe partnered with Rolls-Royce and airframer Tecnam to develop an all-electric version of the Tecnam P2012 Traveller that is anticipated to enter service in 2026.
Start-up Ampaire, acquired by subscription regional airline Surf Air Mobility in February, is experimenting with hybrid-electric retrofits, including flying an electric-modified Cessna 337 Skymaster in partnership with regional Hawaiian operator Mokulele Airlines. Ampaire also plans to develop a hybrid Twin Otter, dubbed "Eco Otter SX", that would have more than 174nm range. That 19-passenger aircraft could capture 20-30% in energy savings and 10-25% in maintenance savings, the company says.
Clean-sheet electric regional aircraft developers are also lining up.
Regional airline Cape Air is launch customer for Eviation's Alice, a nine-passenger electric aircraft that Eviation aims to have certificated in 2024. Eviation has faced challenges, including a January 2020 ground fire that involved lithium-ion batteries and occured after hours of testing, destroying an Alice prototype.
On 13 July, United Airlines and its regional partner Mesa Airlines agreed to buy a combined 200 examples of ES-19, an electric 19-passenger regional aircraft under development by Heart Aerospace of Sweden. Heart is hoping to deliver its first ES-19 as soon as 2026.
EXPANDED MARKET
Harbour Air's McDougall thinks electrification can transform regional aviation. "It does potentially reduce costs to the point where you could offer lower-priced tickets and therefore expand the market," he says.
Even slight operating savings – as little as 5% – could kick start change, letting airlines trim fares just enough to fill otherwise empty seats, says McDougall.
"The thing about flying scheduled services is, any seat that goes empty is the most expendable thing you can have. You can't reclaim it. Filling seats is vital to profitability," he says.
McDougall and others think the business case for electric passenger aircraft can be strengthened if operators increase aircraft utilisation and adopt "dynamic" pricing, which has long been used by major airlines. Dynamic pricing involves basing ticket prices on demand (rather than cost), and tweaking prices as demand shifts based on factors like time of day.
Doubling utilisation of a small passenger aircraft from 1,500h to 3,000h annually would spread out fixed costs, reducing hourly operating costs, with possible savings of "10-15% from interest and insurance savings alone", according to a "Regional Air Mobility" report released by NASA in April.
"Find a way to actually fly that aircraft more… All of a sudden the economics make a ton more sense," says Riedel.
CHALLENGES
But increased utilisation might not come easy. That is because batteries have limited life cycles. Over time and through heavy use, they degrade, leaving them capable of storing less and less electric power. High-utilisation operations would require batteries with life cycles that exceed currently available technology, notes Riedel.
Also, electric aircraft will likely require charging infrastructure, including electrical grid upgrades, at both ends of a route – an expensive upfront investment, he adds.
Additionally, there are no guarantees that battery energy density will continue increasing, or that battery costs will continue falling. Indeed, without a breakthrough in chemistry, it is unclear if lithium-ion batteries could plausibly powering anything larger than 19-passenger aircraft. For that reason, some pioneers are focused instead on developing turbo-electric hybrids and hydrogen-powered aircraft.
Still, supporters of regional electric aircraft point to the past as evidence that hurdles can be overcome. Battery degradation, a problem for electric cars ten years ago, has been largely resolved, perhaps pointing to a similar trajectory for electric aircraft. A number of companies are working on recycling degraded batteries, using their core materials in new batteries, says Ganzarski of Magnix.
At the same time, the aerospace industry faces immense government and societal pressure to reduce emissions, and many governments are preparing to invest heavily in electrification technologies. Perhaps governments might help fund development of electric aircraft infrastructure, such as charging stations, says Riedel.
DISPERSED OPERATIONS
Though challenges remain, the most-expensive infrastructure challenge has long been solved: construction of suitable airports.
The USA has more than 5,000 airports available for public use, but just 30 serve more than 70% of all air travellers, according to the Federal Aviation Administration. And about one third of those 30 major airports are capacity constrained, meaning they have limited room to accommodate more flights, according to the FAA.
The vast majority of US airports are small and underutilised – in other words, ideal for electric aircraft, say advocates. Passengers travelling from such airfields would not face long waits in security lines; they might only need arrive at airports 15min before departure.
Smaller airports are also closer to most people. Some 90% of Americans live within a 30min drive of regional airports, while only 60% live within 30min of commercial airports, according to a McKinsey study. Most Americans live within a 16min drive of an airport.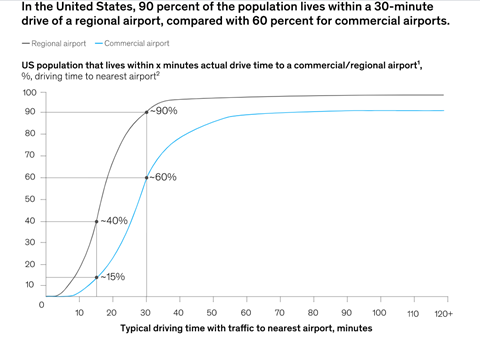 In the end, regional travel by electric aircraft can be viable if passengers view it as being better than driving. And to reach that threshold, air options must be faster door to door.
"You need to believe that you actually have time savings", Riedel says. For that reason, he thinks regional air transportation could make sense for travel distances of exceeding 100 miles, "or somewhere more like 300 miles to 500 miles."
Americans take about 2.2 billion car trips of between 100 miles and 500 miles each year, according to mobile phone location tracking studies conducted by McKinsey. Hassle-free regional air travel could capture 2-3% of those trips, assuming the air travel takes less time and costs somewhere between $150 and $300, the company predicts.
A small shift in travel habits could add up to a big industry: about $30 billion in regional airline revenue by 2030, up from about $5 billion today, according to McKinsey.
Eliminating hassles – even more than cutting costs – might be key to growing the regional airline market. Take, for example, Uber's explosive growth, says Riedel. "We had taxis and people didn't use them. And then, all of a sudden we went ride hailing," he says. "Yeah, they decreased the cost, but they also made it way more convenient."
Frequent departures and route networks that reach multiple destinations will also be important factors, he adds.
SHORT-DISTANCE POSSIBILITIES
Harbour Air's floatplane network, which connects Vancouver and small surrounding communities, may offer a preview of short-haul electric-aircraft routes of the future. The Canadian operator specialises in brief flights over the Salish Sea – trips that would otherwise require travel via slow-moving ferry.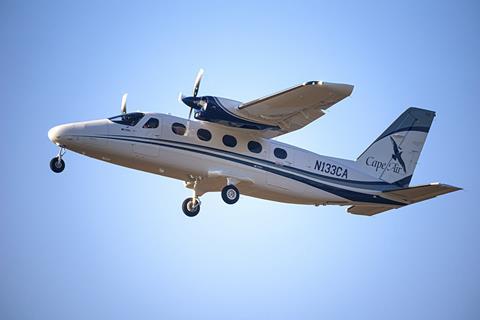 "Our route structure… and then also using airframes that only require a single engine, put us into this unique category of being able to use existing lithium battery technology right off the bat in a way that is economically viable," CEO McDougall says.
While Harbour Air's short hops differ significantly from the overland flights of other regional operators, electric aircraft don't need much additional range to become widely useful. Take Massachusetts-based Cape Air, one of the USA's largest commuter airlines, with nearly 100 nine-passenger aircraft, including Cessna 402Cs and a growing fleet of Tecnam P2012s. A 2016 study from air taxi developer Joby Aviation said 67% Cape Air's flights were less than 100nm, and all were less than 225nm (A survey of Cape Air's flight schedule in July 2021 shows the commuter airline still flies routes 225nm or less).
Such ranges should be possible with current technology, says Ganzarski. "Six- to nine- to 19-passenger aircraft flying up to 500 miles – that's doable today," he says. "The technology exists."
Consider, for a moment, how a low-cost electric aircraft with only 200nm range, operating from a place like Hawthorne Municipal airport in the centre of Los Angeles, could revolutionise regional travel. From Hawthorne, such an aircraft could reach all of Southern California – a region with 19 million residents and 89 public-use airports. Beyond that, the mid-sized cities of Bakersfield (384,000 residents) and Fresno (532,000 residents), and the popular tourist destination Las Vegas (651,000 residents), would be within range.
Demand for regional flight is poised to break out of major airport hubs, Ganzarski claims. "50% of all US airline flights were less than 500 miles in range," he says, citing data from OAG Aviation. "Half the people going to those major airports don't really want to fly anywhere major. They want to fly locally, regionally."
Why visionaries think small electric aircraft can revolutionise regional air travel
1

Currently reading

Why visionaries think small electric aircraft can revolutionise regional air travel

2