Wizz Air has rejected US pilot unions' claims about its operations as irrelevant and untrue, accusing them of attempting to interfere in regulatory processes to further their own pro-union agenda simply because they disagree with the airline's labour policies.
The carrier is seeking to serve US destinations with an Airbus A330-200F, on behalf of the Hungarian government, but has encountered resistance from four pilot unions – although, it notes, no US airlines – over its proposal.
These unions cited Wizz's anti-union stance, as well as the relative lack of detail regarding its planned operation, in their objections.
Wizz Air has clarified that it intends to use a single A330 freighter to operate "occasional ad hoc cargo charters" to US destinations when the twinjet is not being deployed for pandemic-related relief work.
In an updated communication to the US Department of Transportation, the airline stresses that the rest of its fleet comprises Airbus single-aisle jets and that it "has no plan to offer scheduled passenger services" to the USA.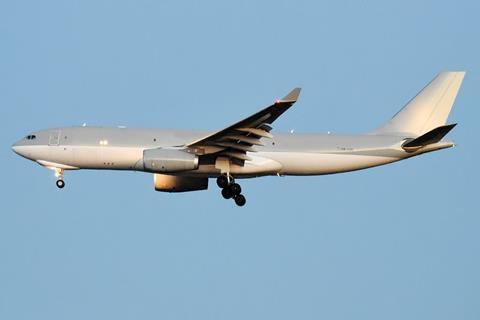 Wizz points out that the US pilot unions' responses and the "sharp tone" with which they were presented "completely belie" the fact that the airline intends only a modest cargo service with just one aircraft – the only A330 in its fleet.
It argues that the unions' real agenda is to advance the case for unionisation at Wizz by pushing the claim that its stance affects safety – even though the European Union Aviation Safety Agency has approved and oversees Wizz's operations.
"Underlying each [US pilot union] objection is the fact that Wizz Air has a non-unionised labour force," says the carrier. It says union assertions that the airline's structure should trigger safety concerns "must be rejected out-of-hand".
It says that US unions are "unhappy" that sister organisations in Europe have been "unable to persuade EASA" of "alleged and untrue defects" in the airline's safety culture.
The unions have resorted, claims Wizz, to "news clippings and anecdotal evidence" of labour dissatisfaction to support the contention that US regulators should "insert themselves into European regulatory oversight processes".
"US aviation regulators should resist this demand," it adds. "The only thing 'proven' by the [US unions] is that they have spared no energy in challenging Wizz Air's labour arrangements."
Wizz Air also claims that its application follows the procedures required under the US-European 'open skies' agreement, and dismisses assertions that the proposed operation should be subjected to a competitive analysis simply because Wizz and US carrier Frontier Airlines share a common investor – pointing out that Frontier neither operates freighter nor does it serve transatlantic routes.