Central European budget carrier Wizz Air is expecting a technical issue affecting Pratt & Whitney PW1100G engines will limit its capacity over the second half of the 2023-24 fiscal year.
Wizz Air operates a fleet of Airbus single-aisle jets, with a substantial proportion consisting of A320neo-family aircraft fitted with the powerplants.
After Pratt & Whitney parent RTX disclosed an update to the situation – caused by powder metal contamination during manufacture of components including turbine disks – the airline assess the potential impact of remedial action on its operations.
Wizz estimates the need for increased engine removals will result in a potential capacity reduction of 10% during the second half of its fiscal year – the six-month period which runs from 1 October 2023 to 31 March 2024.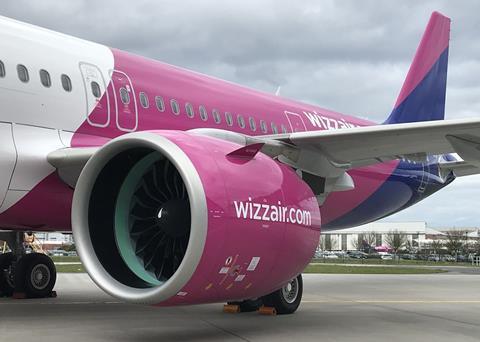 "[The engines] will be subject to inspection intervals, resulting in engines being removed for shop visits during the remainder of 2023 and into 2024," the carrier says.
It states that this will "likely cause some of its aircraft being grounded in this period".
Wizz Air says it is still "assessing the implications" to determine the extent of disruption to its operations.
"[We will] continue to work with Pratt & Whitney to minimise the impact to [our] fleet plan and costs to the business," it says, adding that it will be seeking "financial compensation" from the engine manufacturer.