Central European budget carrier Wizz Air is expecting to ground around 45 Airbus A320neo-family jets by the end of March 2024, in relation to Pratt & Whitney engine inspections.
These figures include aircraft grounded in September 2023 and others which will be affected from mid-January next year.
"The final number of aircraft impacted by the inspections at the end of [the fiscal year in March 2024], and periods beyond, depends on utilisation of engines, number of spare engines available and [maintenance] induction slots schedule," says the carrier in a first-half results briefing.
"Near- and longer-term operational and financial impact is mitigated by management action and [manufacturer] compensation that has now been secured."
Wizz says a Pratt & Whitney engine support package will provide "multiple benefits" to the airline, including compensation for the affected aircraft – part of which relates to costs incurred in the first half of the year to 30 September.
Chief executive Jozsef Varadi says the initial engine inspection requirements had "minimal impact" on capacity but the carrier is introducing measures to offset the effect of further inspections.
"[These include] higher utilisation from our existing fleet, aircraft lease extensions and continued new aircraft deliveries," he says.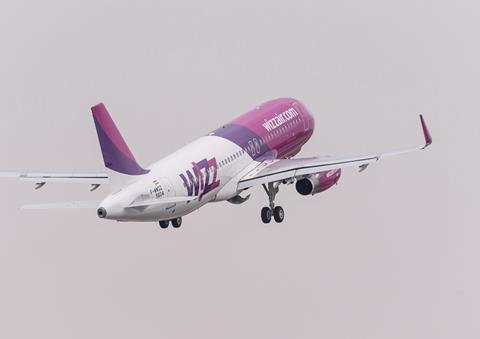 The airline is prolonging leases on 13 older-variant Airbus jets – including four 230-seat A321s – with seven of the lease extensions already completed.
Wizz says these lease extensions range from two to four years and have been obtained at "discounted or original lease rates".
Despite the groundings, Wizz still expects to raise second-half capacity by 20% on the previous year – comprising a 25% hike in the third quarter and 15% in the fourth.
Over the first half the carrier took delivery of 18 A321neos, while returning 10 older A320s, giving it an overall fleet of 187 aircraft – of which A321neos comprised 100.
Wizz is expecting to introduce another 21 A321neos during the second half, and withdraw four A320s.
It is also forecasting "minimal impact" from Airbus delivery delays over the subsequent fiscal years 2024-25 and 2025-26.
Wizz generated a first-half net profit of just over €400 million ($428 million), reversing last year's interim loss, on revenues of more than €3 billion.
Varadi says the airline experienced a "very strong" recovery in load factor – up close to six points at 92.6% – driven by "robust" demand.
He adds that the company is "narrowing" its full-year income guidance to €350-400 million, reflecting continuing uncertainty over the second half.