Central European budget carrier Wizz Air has revealed a revised fleet plan which will not realign with its previous expansion forecast until the 2023-24 financial year.
Wizz Air states that it expects to have 131 aircraft in its fleet by the end of 2020-21.
This is seven fewer than the 138 outlined in its previous strategy, disclosed at the end of January during a third-quarter results briefing.
Wizz Air's revision, released with its full-year results on 3 June, shows it will have four fewer Airbus A320s than intended – a type which it was already phasing out as part of a fleet revamp.
But it will also take three fewer new deliveries during the current year. Wizz will receive 14 A320neo and A321neo jets, seven apiece, rather than the 17 previously indicated.
The airline will take its fleet to 150 and then 170 aircraft over the two subsequent years, compared with the earlier expectations of 153 and 176.
But while the fleet plan for 2023-24 reaches 206 aircraft, realigning with the figure of 205 outlined in January, the composition of this fleet will be notably different.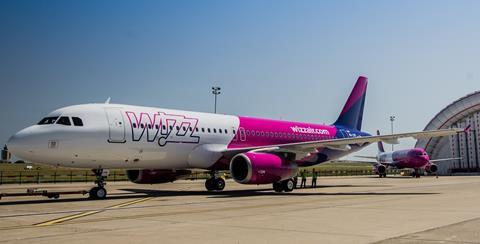 It will comprise a higher number of A320s while the number of A321neos will be correspondingly lower, essentially slowing the fleet renewal and, with the retention of the smaller aircraft, slightly reining in capacity.
But the airline still plans to receive six long-range A321XLRs in 2023-24, and the combined total of 55 A320neos and regular A321s remains unchanged.
The fleet composition completely reverts to the previous forecast in 2024-25 when the airline aims to have 235 aircraft.
Wizz has turned in a full-year net profit of €281 million ($315 million) as the impact of the coronavirus crisis forced it to record a fuel-hedge loss of nearly €64 million.
The airline is not able to give a detailed financial forecast for the current year.
But chief executive Jozsef Varadi insists the carrier will emerge from the crisis "an even more formidable business".
It is continuing to expand its network, with new bases in Albania, Cyprus, Italy and Ukraine, and is planning to launch its new Wizz Air Abu Dhabi operation shortly – stating that this division will have a fleet of 50 aircraft within 10 years.
Wizz had commitments, at the end of March 2020, to purchase 268 Airbus jets over 2020-26 – comprising 102 from orders in June 2015, another 146 from a subsequent deal in November 2017, and the 20 A321XLRs ordered in June last year.
Eleven of these are currently covered by sale-and-leaseback agreements. The carrier also has a commitment to purchase 36 spare Pratt & Whitney PW1100G engines over the same period, only a few of which are scheduled for delivery in 2020-21.