Central European budget carrier Wizz Air turned in a €213 million ($241 million) operating loss for the third quarter, as a result of travel restrictions, but claims it managed to keep capacity above pre-crisis levels at times.
Wizz transported nearly 7.8 million passengers during the three-month period to 31 December 2021, compared with just over 10 million in the same quarter of 2019 – the last clear quarter before the air transport system was affected by the onset of the pandemic.
It says capacity during "peak weeks" of the quarter exceeded the 2019 figure by 10%, although total capacity for the period remained 7% down. Average load factor reached 77% against the pre-crisis level of 92%.
Chief executive Jozsef Varadi says the airline "continued its recovery" during the period despite the emergence of the latest Covid-19 variant strain.
Wizz Air generated a net loss of €267 million for the quarter.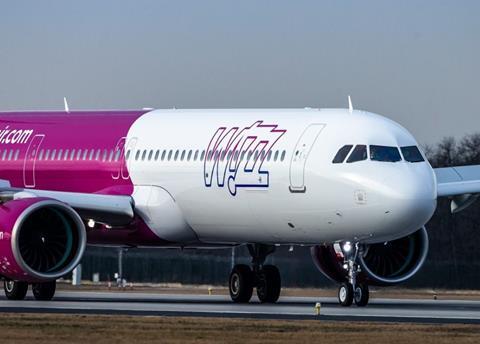 "Throughout the third quarter we continued to stimulate demand with pricing, while staying agile in adjusting capacity that is not cash-contribution positive," says Varadi.
He expects demand for the fourth quarter – covering the first three months of 2022 – to be affected by the 'Omicron' variant of Covid-19 but remains determined to ramp up the carrier's operations towards full utilisation and pre-pandemic cost structure by late spring this year.
As a result of the demand impact Wizz Air anticipates a "slightly higher" fourth-quarter operating loss compared with the third. But it states that its liquidity closed at a "strong" €1.4 billion at the end of 2021.
"Despite the short-term headwinds, we are cautiously optimistic for a continued recovery into spring and near-full utilisation from summer onwards," says Varadi, adding that the fleet will expand to 170 aircraft by this point from the end-2021 figure of 150.