Central European budget carrier Wizz Air expects a 7% reduction on flights within its network during March, as a result of the situation in Ukraine.
But the airline says its projected operating loss for the full year – which concludes on 31 March – will be "materially consistent" with previous financial guidance issued after the third quarter.
It points out that the effect of the crisis has been partly offset by the improvement in post-pandemic trading.
The company forecasts a fourth-quarter operating loss "slightly greater" to that in the third, subject to such matters as preservation of its assets.
Wizz says it has three aircraft based in Kyiv and one in Lviv, and plans to retrieve them "when it is safe to do so".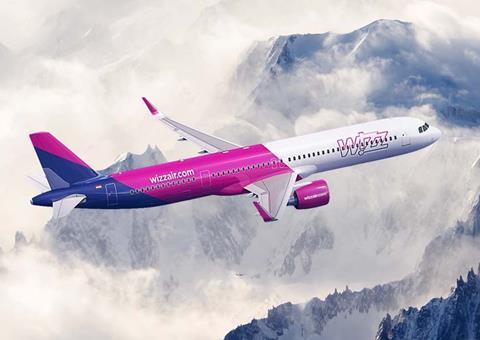 Closure of Russian, Ukrainian and Moldovan airspace has forced the carrier to rejig certain services, and it is operating Moldovan flights out of the Romanian city of Iasi.
Wizz will adjust its point-to-point network, and redistribute capacity, to "maximally mitigate" the disruption for the first quarter of the new 2022-23 financial year.
"Our primary concern has been the safety of our people in Ukraine," it states. "The company is working tirelessly to support the remaining employees who are willing and able to evacuate from the country."