Central European budget carrier Wizz Air is expecting to take its fleet to more than 200 aircraft over the next year, and insists its delivery schedule for the next 12 months "remains intact".
Wizz had a fleet of 179 jets – all single-aisle Airbus models – at the end of its 2022-23 financial year on 31 March.
Its expansion programme will take the fleet to 208 by the end of 2023-24 and it is intending to reach 241, including its first A321XLRs, the year after.
Wizz's fleet increase will be driven by the introduction of more 239-seat A321neos – which will make up more than 60% of its aircraft by the end of March 2024 – while older A320s are withdrawn.
The carrier plans to take delivery of 42 A321neos and return 16 A320s over the next 12 months.
Wizz introduced 35 A321neos and returned nine A320s in the last fiscal year. It has a firm backlog of 365 aircraft, including 47 of the long-range A321XLR.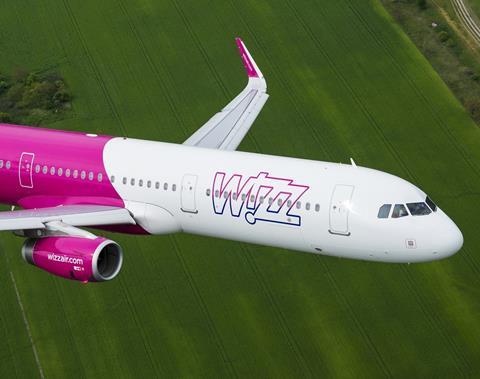 The airline's full-year operating loss to 31 March remained almost unchanged at €467 million ($500 million) while it trimmed its net loss by 17% to €535 million.
Wizz almost doubled passenger numbers to 51 million and achieved an average load factor of 87.8%, up nearly 10 points. It sharply increased capacity, by more than 75%, and is looking to hike it by another 30% over the next year.
Chief executive Jozsef Varadi says the airline's performance is "moving in the right direction" as the post-pandemic recovery continues, and the carrier is forecasting a return to net profit – in the range of €350-450 million – for 2023-24.
"The effects of fuel-price increases and structural capacity issues at airports remained features throughout the year," he adds. "But we are mitigating these through decisive actions which helped to improve ex-fuel cost performance."
Wizz achieved full-year revenues of nearly €3.9 billion through expansion of its core European networks as well as its Middle East operations.
Varadi says the return to profit next year will be driven by a combination of high aircraft utilisation, productivity improvements, "operational excellence" and "increased flight completion factors".
"We are confident in delivering this, having spent much of the last year building an even better and operationally more resilient business, investing in our people, operations, and network, as well as now deploying a systematic fuel- and currency-hedging programme," he adds.