US charter operator AB Jets is adding three super-midsize Bombardier Challenger 3500 jets to its fleet, with the option of ordering a fourth aircraft by the end of 2023.
"This fleet expansion represents a milestone in AB Jets' history," said Andrew Bettis, founder and co-owner of the company, speaking on the first day of the NBAA show on 17 October.
"We're pleased to meet our clients' demands with a new category of aircraft in the Challenger 3500. These super-midsize jets will bring an extended range and comfort to our fleet, increasing our ability to service our clientele."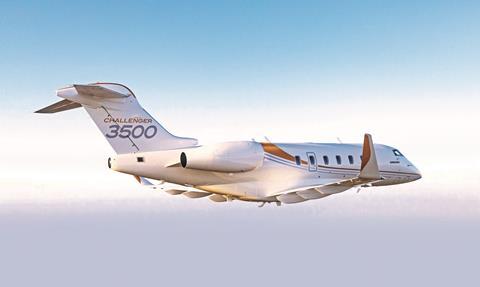 The company, headqartered in Memphis, Tennessee, currently operates a fleet of nine Learjet 60s. It was looking to upgrade its fleet with a "luxury top-notch jet experience", adds Jean-Christophe Gallagher, executive vice-president of aircraft sales and Bombardier Defense.
"We are thrilled that they recognized the Challenger 3500 as the aircraft that can provide just that," he says.
The Challenger 3500 entered service in 2022, replacing the Challenger 350. It has a modernised cabin with features normally found on Bombardier Globals, including a reduction in the cabin pressure altitude by 2,000ft, and an auto-throttle.
AB Jets has been operating Bombardier aircraft for more than 20 years.
"Our experience has given us confidence in the quality and performance of the product and the team who delivers it," adds AB Jets' director of operations David Turner.