Piaggio Aerospace's administrator has invited 11 of the 19 bidders for the company to enter due diligence, and says he is confident a suitable buyer can be selected before year-end, with the deal to close in the first half of 2021.
The Italian airframer – developer of the P180 Avanti twin-pusher and its unmanned surveillance variant, the P1HH Hammerhead – entered extraordinary receivership in December 2018 after Abu Dhabi wealth fund Mubadala, its sole shareholder, pulled out.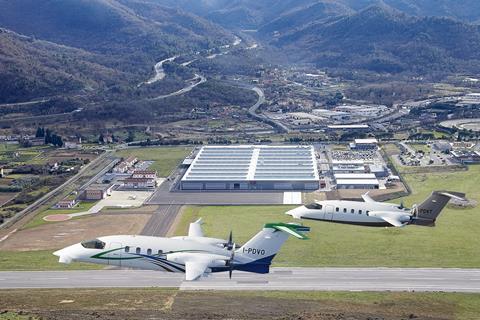 Bidding for the company ran from 26 February until 29 May. Extraordinary commissioner Vincenzo Nicastro says offers "have arrived from all over the world", including companies in Canada, China, France, Germany, Italy and the USA. However, he declines to reveal their identities due to confidentiality agreements.
The "vast majority" of the bidders are interested in acquiring the whole company – which is Nicastro's preferred outcome. "Those parties who are interested only in one of the two businesses - aircraft manufacturing and development, or engine support - have indicated that they are ready to reconsider the possibility of acquiring it in full, once due diligence is completed," he says.
This process is expected to end on 31 August, when parties will be invited to submit binding offers. "Our aim is to select a buyer before the end of the year, and complete the sale in the first half of 2021," says Nicastro.
He describes the ideal owner for Piaggio as "a solid company" with a long-term strategy for the firm. "It must be ready to develop Piaggio's existing portfolio, invest in its future and its skilled workforce, and of course, pay the right price."
He does not expect the worsening global economic climate, triggered by the coronavirus pandemic, to have "much of an impact" on the acquisition price or sale process. "Even if some interested parties have been discouraged by the pandemic, receiving 19 expressions of interest in Piaggio confirms that there is a huge interest in the company," he says.
Piaggio's appeal to a potential buyer is sweetened by a lifeline package of orders and commitments secured by Nicastro from the Italian government, worth around €900 million ($980 million).
This includes a deal for nine new Avanti Evos, and the retrofit of 19 earlier-generation examples of the twin-engined turboprop operated by the country's armed forces.
Rome has also committed to financing the completion of P1HH certification, and acquiring at least one system, comprising two aircraft and one ground station.
HammerHead development has been on hold since the company entered receivership. Piaggio says its long-term objective is to maintain "company know-how" and participate in future Europe-wide unmanned air vehicle programmes.