An Airbus A220-300 VIP cabin concept has been unveiled by two North American business aviation services companies in a bid to showcase the regional airliner as a viable alternative to traditional large-cabin, long-range business jets and established VIP narrowbodies.
Camber Aviation Management and Kestrel Aviation Management have partnered with French design house Pierrejean Vision and engineering companies F/List and Flying Colours to create an interior for the aircraft formerly known as Bombardier CSeries. The jet "is remarkably different from what is currently seen on large-cabin corporate aircraft". It has an "innovative, comfortable and well-designed cabin with state-of-the-art systems, features and materials".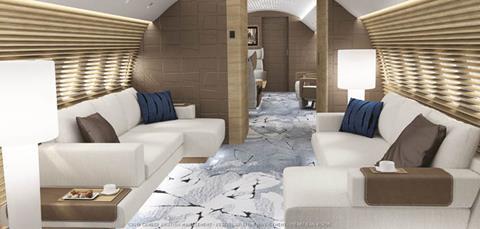 The design, which took over 18 months to create, centres on a seven-zone modular cabin comprised of three fixed and four variable zones. The forward, mid and aft areas are fitted with common entry and galley, lavatory and closet, and master suite with a washroom featuring a steam shower, respectively.
"The cabin is designed to allow each buyer to select different configurations for the multiple, flexible zones," the team says. A lounge for example, can convert to a dining room with a "unique convertible table design, a cosy forward cabin to relax, a bespoke media lounge with a 75in-screen and tuned Dolby surround sound, along with an expansive private office or children's bedroom".
The modular concept was developed to simplify cabin design, reduce completion build times and lower production and "non-recurring costs" over a number of aircraft. "Together, these design goals significantly reduce manufacturing and certification costs ‐ essential in achieving the right price-point in the market while providing a bespoke and highly capable aircraft".
This A220 interior concept also features VIP cabin lining and different lighting styles for each zone. Passengers can use a tablet to control lighting, entertainment and window shades, and to call flight attendants.
The companies are offering the A220 with global Ku- or Ka- band voice and data satellite communications, audio and video on-demand entertainment, wireless streaming to monitors and personal devices, and an optional on-board cinema. It would also have a "well-equipped" galley (steam and induction ovens, espresso makers and wine chiller are options) and a master bedroom suite with a queen-size bed and washroom with lavatory and steam shower.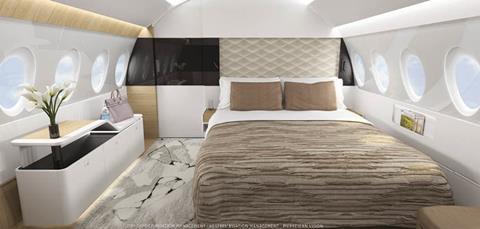 While cabin floorspace and volume are equivalent to ACJ319neos and Boeing BBJ Max 7s, says the team, the A220 "service-ready purchase price" and operating costs are around 20% cheaper. The VIP-configured airliner is a "great alternative" to single-aisle airliners "characterised by [their] high acquisition costs… and to ultra-long-range business jets with limited cabin space", says the team.
"The future of airliner-based corporate aircraft depends on the adoption of a cabin design philosophy that is affordable, reduces risk and exceeds customer expectations on customisation, usability, aesthetics and maintainability, "says Kestrel Aviation chief executive Stephen Vella. "Our cabin concept more than meets these criteria."
Airbus has not formally launched an ACJ220. The airframer, which completed the purchase of CSeries from Bombardier earlier this year, says it "focusing" on the commercial version of the airliner and on the ACJ320neo family. "There are on-going studies but it is common in our industry that studies won't necessarily lead to concrete projects," it says.