Bye Aerospace is planning to expand its family of eFlyer all-electric aircraft with a six- to nine-passenger model that could take on traditional executive turboprops and light business jets.
While details of the new programme are being kept under wraps, chief executive George Bye says the aircraft is currently in the concept design phase. "We are very excited about this project and will announce its publicly before too long."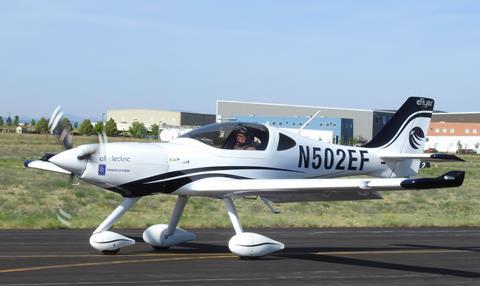 He says the "momentum is growing" for low-cost and sustainable products, and electric aircraft "perfectly fill that niche".
Entry into service of the new model "is several years out", Bye says, by which time battery technology will have improved dramatically, giving the aircraft the necessary range and performance to compete in this sector.
"Battery technology is getting better all the time, as work on our current [aircraft] programmes proves," says Bye.
Its debut model, the eFlyer 2, finished its critical design phase in early June, and Bye says the company will start assembling the first production-conforming aircraft before the end of the third quarter.
The firm, based in Denver, Colorado, has been flight testing a proof of concept version of the two-seat aircraft since April 2018 "and invaluable feedback from the campaign has been incorporated into serial number 1," says Bye.
Changes include widening the cabin by 10.2cm (4in), to 1.2m, lengthening the wing by just over 1.2m, to 11.6m, adding winglets, and replacing the clamshell doors with a gullwing design.
Three production-conforming aircraft will take part in the flight-test campaign, with US Part 23 certification scheduled for mid-2021. The eFlyer 2 is powered by a 120hp (90kW) Rolls-Royce RRP70D electric motor, delivering speeds of over 135kt (250km/h) and an endurance of over 3h. "The motor weighs 26kg, is 95% efficient and operates on the eFlyer 2's 750v battery system," says Bye. The choice of propeller supplier is still under consideration, he adds.
The all-composite eFlyer 2 is targeted at owner-flyers and training schools, and pitched against the Cessna 172 and Piper Archer. "The eFlyer 2 is vastly cheaper to operate than these established designs," says Bye, citing a cost per flight hour of $23, compared with around $110 for the piston-engined pair.
"By lowering the cost of operation so drastically, pilot training and private flying will become accessible to so many more people."
Similarly, the in-development eFlyer 4 will offer a "highly cost-efficient and sustainable alternative to advanced trainers and short-haul air taxis," Bye says.
Operating costs for the four-seat model - which is in its preliminary design phase, and scheduled to enter service around a year after the eFlyer 2 - will be around $30 per flight hour against $150 for similar-sized models such as the Cessna 182 and Cirrus SR22.
The latter has established itself as an air taxi with companies including Imagine Air in the USA and Fly Aeolus in Europe. "We have already received tremendous interest in the eFlyer 4 as an air taxi, with the model accounting for a large share of the 330-strong eFlyer orderbook," says Bye.
Customers declared include US start-up Quantum Air, which announced an order last year for 26 aircraft, of which 22 are eFlyer 4s, and on-demand charter marketplace BlackBird with a commitment for up to 100 aircraft.
Details of the eFlyer 4's powerplant have not been disclosed, but Bye says the aircraft will have cruise speed of 175kt and an endurance of 5h. The aircraft will also have a full-fuel equivalent payload of 400kg (850lb) and feature an airframe ballistic recovery parachute "for added safety".