Bye Aerospace has begun the next phase of flight testing on its eFlyer 2 technology demonstrator, which the US company will use to select the most efficient propeller to maximise the performance of the all-electric aircraft.
Flight testing of the proof of concept eFlyer 2 began in April 2018, with the evaluations so far focussed on the aircraft's design, handling qualities, systems and performance.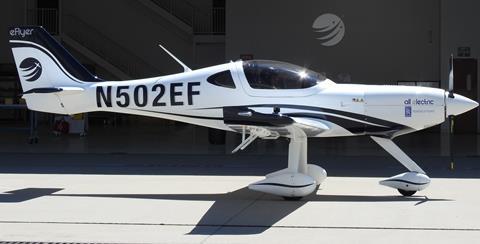 The all-composite eFlyer 2 is powered by a 120hp (90kW) Rolls-Royce RRP70D electric motor coupled to a 750V battery system. It delivers speeds of over 135kt (250km/h) and has an endurance of over 3h.
George Bye, chief executive of the Denver, Colorado-headquartered firm, says the latest round of testing will focus on "collecting flight envelope engineering data" for the three propellers being considered for the production version of eFlyer 2.
The aircraft finished its critical design phase in early June, and Bye will shortly begin assembling the first production-conforming model in preparation for a debut sortie later this year. US certification and service entry of the eFlyer 2 are scheduled for 2021.
Bye will not name the propeller suppliers or products under evaluation, but says the selection will be based on the aerodynamic performance and lightweight design of each system.
"Data from these flight tests will help our engineering team determine the most efficient propeller that will maximise the overall efficiency for the typical flight training syllabus requirement," says Bye. As well as the flight training market, the eFlyer 2 is targeted at owner-flyers and air taxi operators.
"The Rolls-Royce electric motor on the technology demonstrator has varying torque, and a large RPM range," says Bye. The forward motor section is also significantly smaller than in aircraft with a conventional engine, leaving more of the blade exposed. This he notes "leads to increased propulsion efficiency and more torque from the electric motor producing thrust as opposed to cooling air for an internal combustion engine".
"So we will be conducting flight tests with the various propellers over the summer against these beneficial and unique electric propulsion criteria," he adds.
Bye expects its eFlyer family - which includes the four-seat eFlyer 4 - to be first Federal Aviation Administration Part 23-certificated, clean-sheet all-electric aircraft.
The eFlyer 4 is in its preliminary design phase and scheduled to enter service in 2022. Nearly 350 orders have been secured for the eFlyer pair to date.
Concept design work on a six-to-nine-seat model is also underway, and Bye plans to publically announce the programme later this year.