GE Aviation's delayed Catalyst turboprop programme has advanced enough that a maiden flight test is now scheduled for this spring with certification targeted for autumn 2021, according to the company's European aero engines unit, Avio Aero.
The 1,100-1,300hp turboprop is set to power Cessna's new 8- to 11-passenger Denali. But in October at the NBAA business aviation convention in Las Vegas, the Wichita-based airframer announced that its plan to commence a roughly 18-month certification campaign before the close of 2019 had to be postponed for want of an engine. This week, Cessna commented: "While the aircraft development program continues on the Cessna Denali, we are awaiting the GE Catalyst Safety of Flight Engine. As we mentioned at NBAA, given the delay in the engine delivery, we are not putting a timeline on first flight of the Denali."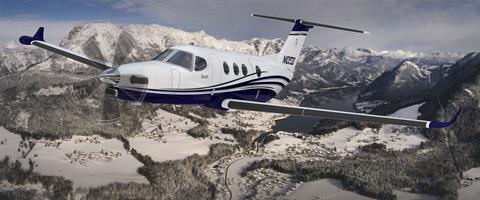 GE has attributed the delay to new turboprop testing requirements – particularly icing tests – implemented by the US Federal Aviation Administration over the past ten years.
But this week, Avio's Catalyst sales director, Paolo Salvetti, says the engine – "designed and developed from scratch in Europe thanks to contributions from six countries and with wholly European technology" – has already passed key test milestones. A first certification test in October 2019 followed some 1,300hr running with 850 starts and simulation at 41,000ft.
Flight testing will begin in a Beechcraft King Air, with one of its Pratt & Whitney Canada PT6s replaced by a Catalyst.
Salvetti underscores the new engine's flexibility, being suitable for both civil and military use – particularly in unmanned aircraft, trainers and light transports. And, as it is 100% European, Catalyst offer the "fundamental competitive advantage" of being exempt from US International Traffic in Arms Regulations (ITAR) which would restrict sales of a product with any US content.
Avio bills Catalyst as the first engine in its class with full FADEC control, accessible to the pilot through a single control point, of both the engine and propeller – allowing jet-like control and optimised performance at all flight speeds to reduce fuel consumption by up to a fifth. This integrated FADEC, notes Avio, will simplify integration of onboard avionics in UAVs.
In anticipation of flight testing, Avio in January began integrating a wood, metal and composite propeller from Germany's MT, a combination that will offered to military customers.