A bid to make the UK a leader in a new generation of quiet, low-carbon regional aircraft has got a fresh surge of momentum from a new plan to establish a general aviation-focussed business cluster near the Imperial War Museum's Duxford airfield site, within the high-technology region around Cambridge University.
Faradair, with plans to develop an 18-passenger hybrid-electric aircraft designed for fast transition to cargo use, will relocate as soon as 1 September from Cirencester, in the west of England, to be the first tenant at the proposed Duxford AvTech centre, on land owned by Gonville & Caius College and the museum.
According to Caius (say "keys") College, planning permission for 10,000sq m (107,000sq ft) has been obtained and construction will commence next year, with other firms "expected to follow [Faradair] shortly". Ultimately, the Caius-IWM plan calls for 100,000sq m of facilities delivering 2,000 jobs, to be built in phases and including new homes, a country park and new community facilities at Duxford village.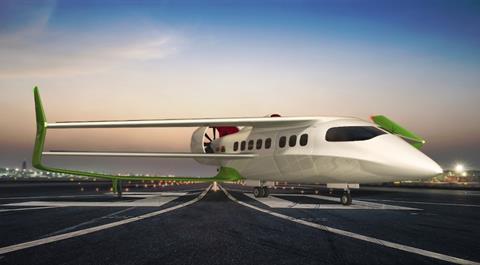 Neil Cloughley, founder and chief executive at Faradair, describes the move as capital investment in the form of facilities – and a significant boost to his six-year-old effort to turn his Bio Electric Hybrid Aircraft (BEHA) concept into reality. The triple-box wing, all-composite design is compact, robust, versatile and quiet – all features critical, as Cloughley sees it, in bringing profitable commercial flying to small, local airfields.
But however appealing the concept, funding the project has been challenging. In March 2019, Cloughley told a London conference on urban air transport that "angel investors have kept the lights on". Despite vocal support from some members of the UK government, Faradair is still without government funding for a British attempt to shape a new era of regional aviation.
A 2014 Kickstarter campaign failed to reach its £20,000 ($26,200) target, let alone the £3-5 million estimated cost of building a prototype and, if all went to plan, having a production-ready aircraft by 2020.
Now, Cloughley tells FlightGlobal that his "brutal assessment" is: "We're not where we should be". But, he says, the show of support by Caius and the IWM will help him attract the investment he needs to achieve a maiden flight in the first half of 2024.
The plan calls for a "seed-plus" funding round of £2 million to recruit a core engineering team and take head count to 20 people this year, and maybe to 30 by the end of 2021. A £30 million "series A" funding round would complete structural engineering and start flight tests and certification; booking orders should attract further investment, says Cloughley.
This year, he adds, he hopes to complete the design, announce a propulsion partner and set performance parameters.
NEW WORLD
Back in March, of course, everything was different. Cloughley – whose father was a UAV entrepreneur and whose own background is in aircraft trading and IT – says his instinct had been to start Faradair in the UK. But, he adds, he had no idea how high the barriers to success would be. By the eve of the Covid-19 lockdown, Cloughley and his team had decided to leave the UK and were in talks with an "east coast" US state.
Then, Covid-19 hit. As Cloughley puts it: "The world has changed. [Airlines] need to shrink and they need to make more regional flights." The realisation that working from home, or locally, is viable and attractive has been "a real paradigm shift" for aviation. Faradair, he says, has even been contacted by an airline.
The approach by Caius and the IWM pushed those relocation plans to the back burner, says Cloughley - who does not hide his delight at moving the company to Duxford airfield, with its history dating to the First World War, extensive use by the RAF and US Army Air Force in the Second World War and, now, a vision of driving a new future for aviation.
That vision, of short-haul transport of people and goods from easily accessible local airfields, is not of course unique to Faradair and its hybrid-electric aircraft with high-lift compact wingspan of barely 17m (55ft), 300m take-off and 15min conversion between passenger and cargo missions. A smaller version is more advanced in France, from VoltAero, the company founded by former Airbus chief technology officer Jean Botti. Another UK start-up, Electric Aviation Group, hopes to have a 70-seat hybrid flying by 2028.
But as Robert Gardiner, senior bursar at Caius, puts it by video – while standing in front of a Spitfire in the IWM's Duxford collection – BEHA is attractive because it's not aimed at a "high-net-worth" customer: "Faradair absolutely shows the need for what it is we want to offer here, and the aircraft offers so much of what general aviation now needs… This is a workhorse, this is a flying van in the sky. It's got so many applications, it's got general applications. It's got a much bigger addressable market. And it solves a lot of the problems that general aviation currently has."
If the move to Duxford attracts the investment Cloughley needs, he will have more challenges than merely to get the BEHA flying. The operating economics are critical – his target is $600/hr or less – and the aircraft must actually prove to be as flexible as promised, delivering what Cloughley calls a "combi role from a common asset". That is, easy flipping between passenger and freight configurations, and also suitable for parapublic uses like border patrol or delivering cargo or people to or from the UK Royal Navy's new Queen Elizabeth-class aircraft carriers.
Then, a question mark still hangs over one of Cloughley's original ambitions, of recreating an aircraft manufacturing industry in the UK. Production, he says, would be worth 1,500 direct jobs and another 1,500 in the supply chain. Those jobs could end up in Duxford but, he says, UK regions are interested and moving overseas – including to the USA – remains a possibility.