Less than three weeks after securing US and European certification for the Garmin Autoland safety system on the TBM 940, Daher has appointed business aircraft services provider Elliot Aviation to retrofit the feature on US-registered examples of the single-engined turboprop.
Elliot, a TBM service centre, will perform the work from its headquarters in Moline, Illinois. Daher will retrofit non-US-based aircraft with the system at its base in Tarbes, southwest France.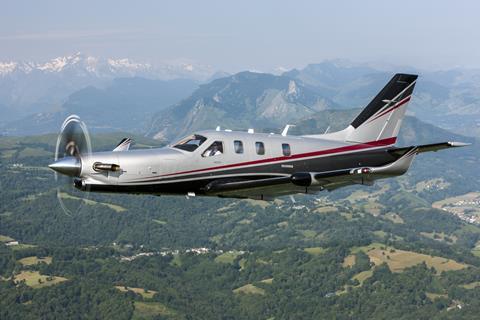 Autoland was introduced by Daher late last year as part of a package of enhancements on 2020 versions of its high-speed, six-seat flagship – launched in March 2019.
Customers already in receipt of the current variant can upgrade free of charge, while owners of earlier-production 940s will be charged $85,000 for the retrofit, says Daher. "In total, 53 940s are eligible for the upgrade, of which 44 are in based the USA," it adds.
Daher says the autoland functionality, which it brands as HomeSafe, can control and land the Pratt & Whitney Canada PT6A-66D-powered aircraft without human intervention in the event of pilot incapacitation.
HomeSafe - which is available as a part of the 940's G3000 integrated flightdeck - also analyses weather, traffic and terrain information to select the "optimum airport for landing", says Daher, "considering such conditions as fuel range, flight distance and runway length".
Nicolas Chabbert, senior vice-president of Daher's Aircraft Division, says Elliot has the "capabilities and resources" to undertake "the comprehensive scope of work involved" in HomeSafe retrofits.
The upgrade requires modification of the aircraft's braking system, as well as wiring changes and integration of electrical relays to enable automatic activation of the flaps, landing gear and landing lights.
"At completion of the work, a comprehensive software upgrade is performed, including configuration management, followed by dedicated ground tests," the airframer says.
"Elliott Aviation provides a solution for timely execution of the HomeSafe installations on aircraft from almost half of this year's production output, which require multi-competency expertise for work that will be performed to factory standards," Chabbert notes.