Embraer has completed the first conversion of a Legacy 450 to a Praetor 500 for an undisclosed customer.
The modification was undertaken at the Brazilian airframer's service centre at Bradley International airport in Windsor Locks, Connecticut – one of four Embraer-owned facilities appointed to perform the bespoke upgrade on the 2,900nm (5,370km)-range midsize business jet.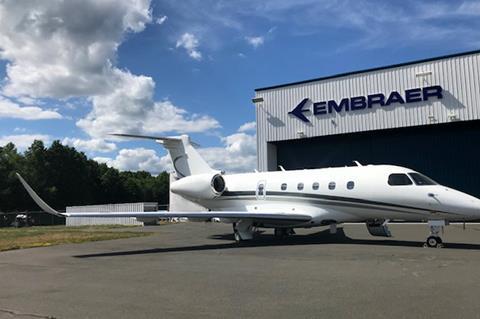 Priced at $500,000, the conversion involves adding swept winglets and extra fuel cells to the Legacy 450's wing to match the Praetor's range of 3,340nm.
This is done through a series of modifications, Embraer says, including replacing level-sensing wiring in the fuel tanks, relocating the over-wing gravity fuelling ports and fuel-measurement system, and reinforcing the wing ribs to accommodate the extra weight of the fuel cells. The electrical flight control software and Collins Pro Line Fusion avionics suite have also been updated, Embraer says, to accommodate the modifications.
Meanwhile the Legacy branding and been removed throughout the aircraft to reflect its new identity.
"Embraer-owned service centres are well-prepared with parts kits and skilled labour and are ready to bring the most disruptive and technologically advanced midsize business jet ever made, the Praetor 500, to our existing Legacy 450 customers, with the company's primary vision of delivering the ultimate customer experience," says Johann Bordais, chief executive of Embraer Service and Support.
The conversion can also be performed at the airframer's MRO facilities in Fort Lauderdale (Florida), Sorocaba (Brazil) and Le Bourget (Paris, France).
Over 60 Legacy 450s have been delivered since the first example entered service in 2015. Embraer says there is strong interest in the Praetor conversion, including a contract from one of its largest customers, Flexjet, to modify 30 of its Legacy 450s. The fractional ownership company is also launch customer for the Praetor 500, taking delivery of the first example in December 2019 from an order placed two months earlier for 64 aircraft. This purchase includes Phenom 300E light-jets and large-cabin Praetor 600s.