Norwegian start-up Equator Aircraft is developing a small family of all-electric amphibians to provide what it describes as a "sustainable alternative to the noisy and costly types" now serving the owner-flyer and commercial passenger transport markets.
Based at Jarlsberg airport 60 miles (100km) south of Oslo, the company began flight testing a proof-of-concept all-composite two-seat amphibian in 2018.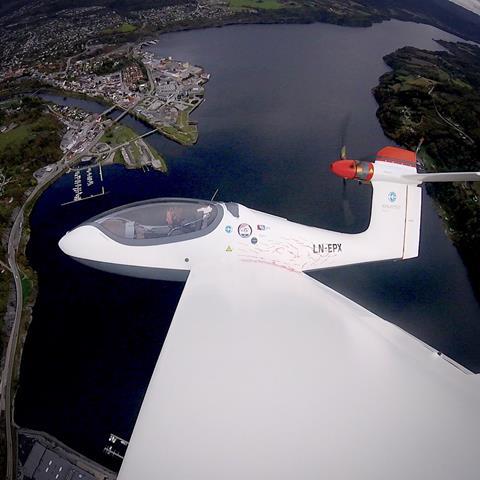 Feedback from these trials is being incorporated into the first production-conforming prototype – a stretched version of the concept aircraft called the X4 which is designed seat up to four people. Preliminary design work is also under way on an eight-seat model which Equator hopes to bring to market by the end of the decade.
The concept aircraft features a 100kW tail-mounted electric motor, supplied by German company Engiro, and powered by 12kWh and 6kWh batteries located in the cabin and the nose, respectively. It has reached a top speed of 100kt (185km/h), and a maximum endurance of 35min.
The X4 will feature a 75kWh lithium-ion battery pack powering a 120kW propulsion unit to give a range of up to 270nm (500km).
Equator is seeking around €5 million ($5.4 million) to bring the X4 to market.
Chief executive Tomas Brodreskift says this investment will also provide sufficient working capital to launch planned sales and marketing initiatives and to accelerate production. "Our plan is to launch flight testing of the first production-conforming X4 within 18 months," says Brodreskift.
To expedite the X4's entry into service, Equator will seek certification from the Norwegian civil aviation authority under experimental regulations. "This should take around 40h of flight testing, and allow us to begin delivering aircraft to local customers who just want to fly for pleasure," Brodreskift says.
The feedback from these owners will assist Equator with the X4's European CS-23 certification campaign, with final approval scheduled for 2025.
European validation will open up a much larger market for the X4, both geographically and operationally, with the aircraft an ideal platform for short hops between islands and towns, as well as sightseeing operations. The X4 will compete against long-standing models in this segment such as the float-equipped Cessna 172 and 182 piston-singles.
Equator hopes to introduce the eight-seat amphibian by 2030, with the aircraft targeted at the commercial passenger transport market.
Brodreskift says this segment is dominated by float-equipped, single-engined aircraft such as the Cessna 206/208 Caravan, Daher Kodiak 100 and De Havilland Canada DHC-2 Beaver, "which are noisy, expensive and costly to maintain".
"Our all-electric commercial seaplane will be extremely quiet, emission-free with very low operating and maintenance costs," he adds.
Many of the world's major towns and cities are located adjacent to water, says Brodreskift making downtown-to-downtown routes using seaplanes very attractive. "The business opportunities for this aircraft could be significant," he adds.
Equator is collaborating with Danish operator Nordic Seaplanes to create the "ideal platform" for this segment. Nordic currently operates a single DHC-6-300 Twin Otter for scheduled, sightseeing and ad hoc charter services, but is keen to offer an all-electric aircraft fleet, says Brodreskift.