Israeli start-up Eviation Aircraft has signed a collaboration agreement with GKN Aerospace, which will see the UK aerostructures specialist design and manufacture the wing, empennage, and electrical wiring interconnection systems (EWIS) for the in-development Alice all-electric commuter aircraft.
Work on the parts and systems for the nine-passenger design is already underway at Eviation's Kadima-Zoran base and across "several GKN Aerospace engineering centres in Europe".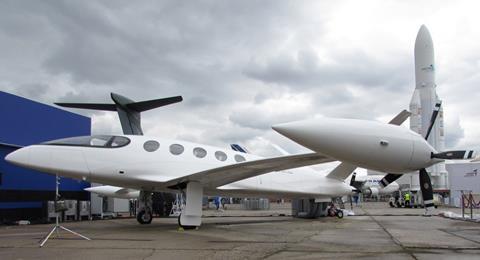 GKN Aerospace says it has a proven capability in the design and manufacture of advanced lightweight aerostructures and wiring systems through its collaboration on a number of established civl and military aircraft programmes.
John Pritchard, GKN Aerospace's president, civil airframes, describes as "ground-breaking" the growing market for electric aircraft.
"It's a step-change in aviation and we are delighted to contribute," he says. "As technology leaders in wing, empennage and EWIS design, we can bring unrivalled knowledge and expertise to the project."
Eviation founder and chief executive Omer Bar Yohay says the company expects GKN Aerospace to "take on a growing part of our development and manufacturing effort as the programme matures and Alice nears production".
No details of the programme have been disclosed by Eviation since January, when it confirmed the first Alice prototype has been damaged in a fire during ground testing at its facility in Prescott, Arizona.
The aircraft – the first of three models to be used in the certification campaign – was scheduled to make its debut flight from the base in the first half of the year, with certification scheduled for 2022.
Alice is aimed at commuter airlines and large business aircraft operators who are looking to introduce cost-efficient and sustainable aircraft to their fleets. Eviation scored a major double-digit launch order for Alice last June from US regional carrier Cape Air, although the quantity of aircraft purchased has yet to be revealed.
Alice uses one main Hartzell five-blade pusher-propeller at the tail and two at the wing-tips. Each propeller is driven by a 260kW electric motor, powered by a 920kWh lithium-ion battery pack, giving Alice a range of 540nm (1,000km) and a cruise speed of 240kt (440km/h).
The all-composite aircraft will seat up to nine passengers and two crew in its 12m (39ft)-long fuselage and is projected to have a maximum take-off weight of 6,350kg (14,000lb). Alice will also feature a bespoke Honeywell fly-by-wire system and flightdeck.