Deliveries of Falcon business jets dipped to 40 units in 2019, compared with 41 the previous year, with Dassault saying output for the period was five aircraft short of its 2019 guidance because of what it describes as "a difficult market".
The drop in output can be attributed largely to falling demand from China – previously one the strongest markets for Falcon jets – driven by a weak economy and trade tensions with the USA.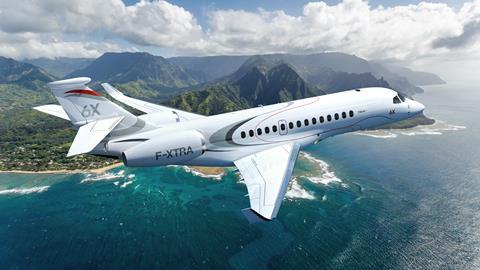 Net Falcon orders for the year ended 31 December fell by two units to 40, resulting in a 1:1 book-to-bill ratio.
The backlog is unchanged as a combined 53 for 7X, 8X and 900LX trijets, plus the twin-engined 2000LXS and in-development 6X.
The superwide-cabin aircraft was launched in February 2018 as a replacement to the 5X programme, which Dassault axed two months earlier because of recurrent technical issues with the jet's Safran Silvercrest engines.
Dassault says final assembly of the first 6X flight-test article is scheduled to begin early in the second quarter at its Bordeaux-Merignac plant, with first flight on target for 2021. Certification and service entry of the Pratt & Whitney Canada PW812D-powered aircraft is expected in 2022.