The first Embraer Praetor 500s have entered service with fractional ownership provider Flexjet, after a pair of the midsize jets were delivered to the US operator in late December.
Embraer handed over the debut aircraft (N429FX) to Flexjet on 23 December – around 14 months after the Praetor 500 programme was launched alongside the larger Praetor 600, which entered service in June. The aircraft are upgraded variants of the Legacy 450 and 500, respectively.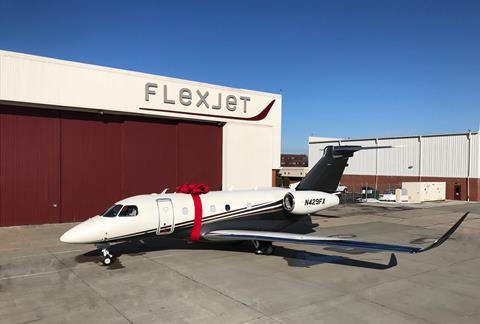 A second Praetor 500 (N430FX) arrived "a few days later", Flexjet says, and both aircraft have now joined the operator's in-service fleet of some 150 business jets.
The pair are the first examples from an October 2019 order placed with Embraer for 64 business jets, consisting of Phenom 300s, Praetor 500s and 600s.
Valued at $1.4 billion, the deal also includes the conversion of Flexjet's fleet of around 30 Legacy 450s to the new Praetor 500 configuration. The modification programme will begin shortly, says Flexjet, and involves adding winglets and extra fuel cells to the 450's wing tanks, boosting range by 350nm (650km), to 3,250nm.
The partnership between Embraer and Flexjet dates back to 2003 when Flight Options, which merged with Flexjet in 2015, became the first fractional programme to introduce the Legacy 600 to its fleet.
Flexjet then became fractional launch customer for the Phenom 300 in 2010, followed by the Legacy 450 in 2016. "We now have around 70 Embraer jets in our fleet," says the operator.