UK aircraft services provider Gama Aviation says it is "strongly focussed" on maintaining business continuity through the Covid-19 crisis, but the uncertain trading environment triggered by the pandemic is expected to "severely impact" its performance in 2020.
The Farnborough, UK-headquartered company said on 25 March that its business units – which include business, commercial and military aircraft MRO, air ambulance provision and business aviation charter and management – remain operational, and the pandemic's impact on revenues has so far been "limited".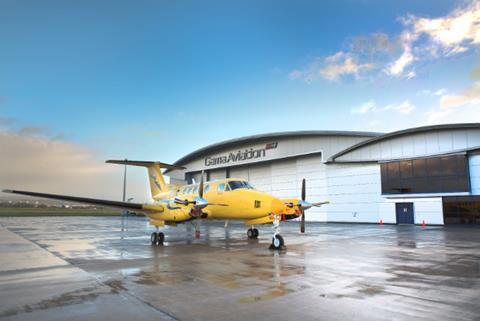 However, this position will not last, it says. "With an expected escalation in Covid-19 cases within the group, an increasing focus on containment by national governments, and the increased threat of airport closures, demand for services is now reducing at a significant rate," says Gama.
The company has adopted a number of measures to maintain business continuity. These include implementing working from home policies, and reducing the number of employees allowed on its sites "to the minimum necessary, in line with government guidance".
"All our divisions remain operational and are delivering services in support of our clients' missions, particularly for those delivering critical services such as [air ambulance provision] to NHS Scotland, the UK Ministry of Defence and other government agencies," says Gama. The company says it has other long-standing contracts "which contribute recurring revenues".
Gama is also taking "pro-active and decisive measures" to preserve cash. These include: placing annual pay increases on hold; halting recruitment except for critical hires to meet contract commitments; reducing or postponing non-essential expenditure; increasing the emphasis on credit control; and pursuing government-sponsored assistance measures. "These interventions are being reviewed daily and will be augmented as required," says Gama
Despite these cost-cutting measures, the firm expects the Covid-19 crisis to hit its trading performance in 2020. It says due to "the fast-evolving and unpredictable nature of this pandemic" it will not be possible to forecast the potential impact on its business with any degree of certainty and is dropping financial guidance for the year.
Marwan Khalek, Gama Aviation's chief executive describes the challenge to its business from the Covid-19 crisis as "significant".
"Our resilient and robust business model, the resolve of our people and the loyalty and support of our clients and shareholders will all be severely tested as we navigate our way through this unprecedented challenge. I am confident that, together, we can prevail and emerge stronger."