Piper Aircraft's M600 SLS has become the first aircraft to secure certification for the Garmin Autoland system, with the safety feature receiving US Federal Aviation Administration approval on the single-engined turboprop on 18 May.
Autoland is part of a package of safety features - branded Halo – that Piper has integrated into the SLS's G3000 flightdeck. These include an autothrottle, emergency descent mode and enhanced stability.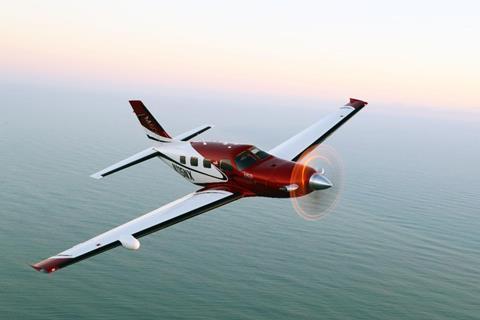 Piper president Simon Caldecott describes the Autoland system as "one of the most significant advancements in general aviation history".
The system safely lands the aircraft at the nearest suitable airport in the event that the pilot is incapacitated. Triggered by a button in the cabin or flightdeck, autoland continually communicates with passengers and air traffic control while monitoring external parameters and identifying the nearest suitable airport, before bringing the aircraft in safely and stopping the engine, says Garmin.
Phil Straub, executive vice-president for the Olathe, Kansas-based firm, says autoland's validation is "a day of celebration for the entire aviation industry as we redefine the expectations of not only the pilot, but more importantly the passenger, and what should be standard equipment on general aviation aircraft".
Cirrus and Daher are hoping to secure certification before the end of the second quarter for the automated landing feature on their respective Vision Jet and TBM 940 aircraft.