Gulfstream delivered the 200th G280 in late June, marking what company president Mark Burns describes as "a tremendous milestone" in the history of the Savannah, Georgia-based airframer.
The super-midsize twin was launched in 2008 as a replacement for the G200, a programme acquired by Gulfstream in 2001 from Israel Aerospace Industries (IAI), where it was known as the Galaxy business jet.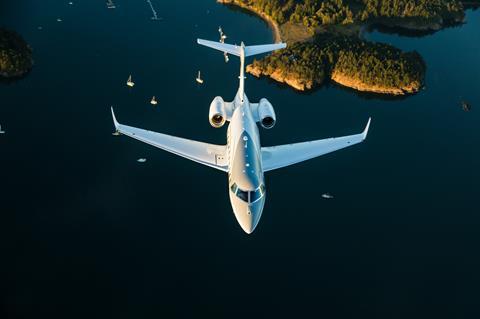 IAI's involvement has continued in the new programme, assembling to the 10-seat jet at its base in Tel Aviv, before shipping green G280s to Savannah for completion.
The updated aircraft entered service in 2012 and features a new wing, tail, engine and interior. It was originally branded the G250 - a model that was to pick up where the G200 had left off after the completion of aircraft number 250.
But in a nod to the huge potential for future business jet sales in China, the airframer in 2011 rebranded the twinjet as the G280 in respect, it said, for cultural sensitivities. FlightGlobal reported at the time that the number 250 can be translated into Mandarin as "stupid" or "idiotic".
Powered by 7,620lb (34kN)-thrust Honeywell HTF7250G engines, the G280 has a range of 3,600nm (6,660km), and a long-range cruise speed of Mach 0.80. Gulfstream's entry-level product features the Collins Pro Line Fusion-based PlaneView280 flightdeck. It is certificated for steep-approach operations, including the 5.5° approach angle and short runway at London City airport in the UK.
"Every Gulfstream model is distinctive and unique in its own way, and the G280 is no different," says Burns. "As when it entered the marketplace in 2012, the G280's combination of superior performance, comfort, safety and efficiency puts it atop the mid-cabin class."
As of April 2020, the in-service G280 fleet had logged nearly 236,100 flight hours and completed more than 145,000 landings, Gulfstream says.
The $26 million G280 does, however, face tough competition in the super-midsize sector, not only from established models such as the Bombardier Challenger 350 – the top-selling business jet in this class - but also from newcomers, the Cessna Citation Longitude and Embraer Praetor 600, which entered service last year.
To head off that challenge, Gulfstream is believed to be mulling a major revamp of the G280, which could feature new engines and interior.