FAI rent-a-jet has transported hundreds of VIP passengers over its 30-year existence, but even by its standards, during the past year it has welcomed some headline-grabbing guests.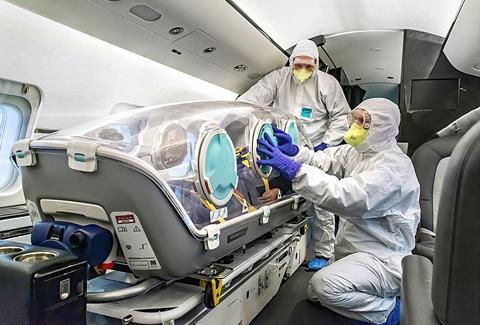 The most recent was Bayern Munich soccer star Thomas Mueller, who contracted Covid-19 while in Doha in mid-February and was forced to miss the Club World Cup. It was FAI that transported Mueller back to his Bavarian home, suitably distanced from the operator's pilots and crew, to enter quarantine.
The most newsworthy was Russian opposition politician Alexei Navalny. In August last year, Navalny collapsed on a flight from Siberia to Moscow. It was decided he would be taken to hospital in Germany rather than Russia and it was an FAI Bombardier Challenger 604 that flew him to Berlin.
Neither of these flights is challenging for FAI because air ambulance and special mission operations have always been a core part of the German firm's offering. But as its chairman and founder Siegfried Axtmann says: "I'm proud it was our company chosen for this critical mission."
FAI's repatriation role has been thrust to the fore with the company having one of its busiest years ever for its 10-strong air ambulance fleet of Bombardier Global Express, Challenger 604s and Learjet 60s, because of the pandemic. This included medical evacuations of infected patients and repatriation flights of unaffected healthy individuals from all corners of the globe.
It bought three EpiShuttle isolation pods at the start of the pandemic to safely transport highly infected patients. These pods have their own self-contained oxygen and air ventilation, isolated from the cabin's airflow. FAI has its own team of specially trained flight doctors and paramedics to accompany patients.
As one of the world's largest air ambulance jet operators by revenue, and typically logging above 10,000 hours per year flying such missions, FAI saw demand fall back as 2020 unfolded. "The crisis produced additional business. But this ran out when all the people who were stranded were air-lifted back to their home countries," says Axtmann.
FAI's regular private jet charter business has been 25% down in the first quarter of 2021, compared to 2020, with country border closures supressing travel and therefore the demand for air ambulance repatriation flights.
The short- to medium-range charter market, where FAI offers its Learjet 60s, has become even more competitive than ever, so much so that Axtmann will gradually phase out the smaller jets in favour of building up its capabilities in the more promising long-range medevac sector.
"Our fleet is well-sized and there are still some utilisation reserves," says Axtmann, so FAI will not acquire any more jets this year.
It is not surprising to hear that FAI's expansion plans are on hold. "We certainly will not increase our workforce drastically in 2021," says Axtmann. Encouragingly, FAI has not reduced its 200-strong workforce, taking advantage of the German government's Kurzarbeit short-time work scheme to retain jobs. "When we are back to normal, we will reactivate our previous plans," he says.
Overall, the private flying sector has appeared to suffer less than airlines. "I haven't heard of too many positions lost in general in business aviation," says Axtmann.
One major change as the industry emerges from the crisis will be the availability of pilots, at least for a time. Pre-Covid, the airlines were "sucking out the talent", says Axtmann. "When we go back [to hiring] more pilots will be looking for an open position, which is new for the [business aviation] industry. For the next few years, up to 2025 I don't see a shortage."
Meanwhile, in the UK, Scott McVicar, managing director of special missions at Gama Aviation, and his team, have had their work cut out over the past year ramping up a major set of air ambulance services for three customers virtually from scratch.
"We have taken on three services, in Jersey, Guernsey and Scotland, through the pandemic, and demonstrated that we are well placed to deliver services in a highly demanding environment where failure is not an option," explains McVicar.
Gama has long been providing fixed-wing air ambulance services flying Textron Aviation Beechcraft King Airs for the Scottish Ambulance Service in addition to helicopter operations sub-contracted to another provider.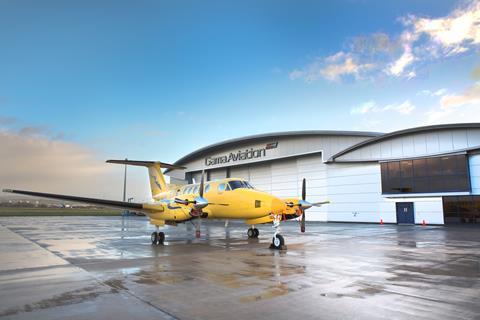 It decided to take the rotary operation in-house buying three Airbus Helicopters H145s from the manufacturer, hiring 12 pilots, and establishing new bases in Glasgow and Inverness including the recruitment of seven engineers. "It was quite a complicated logistical exercise," says McVicar, one that was successfully executed enabling the Helicopter Emergency Service (HEMS) to go live on 1 June 2020.
In parallel, Gama was working with the governments of Jersey and Guernsey on a project to take over the contract to provide fixed-wing air ambulance services for the Channel Islands. From initial contact in February 2020, McVicar's team again went into overdrive to set up the operation in just six months, going live in July 2020.
Gama is operating three King Airs on these services and took on 20 pilots and recruited a 6-strong medical team, says McVicar.
Bringing these operations online in such a short timespan meant Gama leaning heavily on its strong industry reputation, networks, and relationships, working closely with recruiters, the UK Civil Aviation Authority, and others, says McVicar.
In terms of pilot recruitment, he characterises the market as either at a peak or in a trough, with seemingly little in between. "At present it is definitely easier to recruit, but things can change very quickly," he says. "For the Scottish operation we benefited somewhat from uncertainties in the offshore market enabling us to recruit some very experienced pilots."
For Gama, the experience in Scotland is one it would like to repeat, and it is eyeing the HEMS market in the UK and possibly elsewhere in Europe too. "With the aviation experience we've got, and now with our medical experience, we are actively looking at this market where we can be a new player, bringing a new vibrancy and capability," says McVicar.
To this end, it conducted a series of roundtables in March and April, in partnership with Airbus, Leonardo and RotorHub, to discuss the evolution of the clinical and operational requirements of HEMS and air ambulance services in a post-pandemic world.
The experience of Gama and FAI over the past year demonstrate that while the pandemic has raised major challenges, there are undoubtedly opportunities for businesses that can react quickly and flexibly to meet them.