German start-up Lilium says the start of flight testing of the second electric-powered Lilium Jet prototype could be delayed by several weeks as it determines what caused the first test aircraft to catch fire during maintenance on 27 February.
Lilium says the aircraft was "damaged beyond repair" at its base at Oberpfaffenhofen airport near Munich, but the second example, which is near completion and was being readied for its maiden sortie in the second quarter, was untouched by the blaze.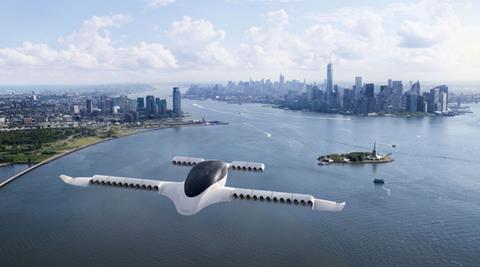 "Flight-testing of the second Lilium Jet will only begin when we have discovered the root cause of the fire and implemented any necessary updates into the aircraft," says Lilium. "Safety is our key concern."
The company says the fire is "not a major setback" for the programme as it "intended to transition to the second prototype as soon as it was ready".
Since its first flight on 4 May 2019 the initial test article had made "hundreds of air and ground tests", says Lilium, including the crucial transition from vertical to horizontal flight. "We were working towards full wing-borne flight with the aircraft," the company adds.
The five-seat Lilium Jet is powered by 36 electrically driven fans distributed across two sets of wings. It has a projected range of 160nm (300km) and a maximum speed of 160kt (296km/h).
Service entry, initially as a manned aircraft, remains on track for 2025, with the jet designed for inter-city and short regional flights.
This is the second fire involving an electric aircraft in less than two months. Eviation's Alice fixed-wing prototype was destroyed by a blaze on 22 January that started in a ground-based battery system.