German start-up Lilium has joined forces with two airports to create the necessary infrastructure at the sites to support regional air services with the in-development Lilium Jet.
The agreement with Cologne/Bonn and Dusseldorf airports is the first of many agreements that Munich-headquartered Lilium plans to secure with hubs around the globe. "The international hubs will be two of our launch sites, but we are in discussion with several interested parties, with the aim of establishing a network of vertiports in towns and cities around the globe," says Lilium's chief operating officer Remo Gerber.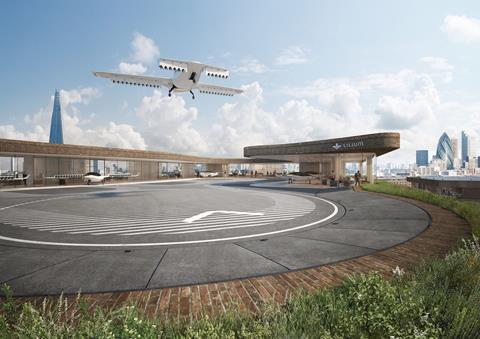 Each site, he says, will have gates for passenger loading and unloading, as well as fast aircraft charging points for a quick turnaround.
The five-seat Lilium Jet all-electric vertical take-off and landing (eVTOL) aircraft is scheduled for certification and service entry in 2025.
"As international traffic hubs with excellent connections to air, rail and road traffic… Cologne/Bonn and Dusseldorf airports are an ideal starting point for the development of networked mobility, which also includes air taxis," says Gerber.
"Their location in [the west German state of] North Rhine-Westphalia [NRW], is also ideal," he adds, "as it is largest and most densely populated German state with 18 million inhabitants". NRW is also home to "thriving industrial and commercial centres", he adds, more than 40 universities and colleges and four international trade fair locations, while the Rhine-Ruhr region within NRW, is the largest metropolitan area in Germany and the third largest in Europe.
"Cities such as Aachen, Bielefeld, Münster and Siegen will be directly connected to the region's largest international airports within 30min, providing emission-free, high-speed connectivity at an affordable price," says Gerber.
Speaking at a press conference on 8 September to announce the tie up, NRW transport minister Hendrik Wust said. "What sounds like science fiction today may soon be reality."
"In the federal state with the highest mobility needs, smart ideas for better mobility are always welcome. We need all modes of transport in order to provide people with a convincingly diverse range of mobility options," he added.
Lilium is working to get its second demonstrator aircraft aloft, with ground tests to begin in the fourth quarter leading to first flight early next year. The first example was in February destroyed by a fire at the developer's Oberpfaffenhofen site.
"We still have Covid-19 workplace restrictions in place, but we hope to start flying the second demonstrator early next year," says Gerber.
Service entry of the Lilium Jet remains on track for 2025, he adds with the eVTOL aircraft projected to have a top-speed of 162kt (300km/h) and range of 162nm (300km).