Oskar Schwenk, who has died aged 78, almost exactly two years after relinquishing the leadership of Pilatus, transformed the Swiss manufacturer into one of the industry's most successful and admired niche players, producing three very different aircraft widely considered the best in their segment, the PC-12, the PC-21, and the PC-24.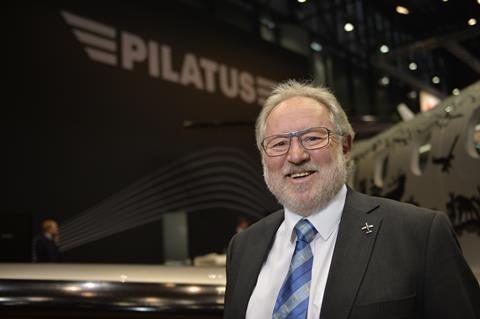 Schwenk joined the company – based in the small town of Stans in central Switzerland and named after the nearby Mount Pilatus – in his mid-thirties in 1978. He rose to become chief executive in 1994 and then also chairman, a role he held for 15 years. He took over a loss-making company, largely involved in subcontracting, and made it consistently profitable.
He achieved that initially with the PC-12, which first flew in 1991. The rugged, stylish and reliable single-engine turboprop – popular with owner flyers and medevac operators – went on to become the top-seller in its class, with Pilatus handing over the 2,000th example earlier this year. That was followed in the 2000s by the PC-21 turboprop military trainer, which has also won customers around the world.
The most audacious launch was the PC-24. Pilatus's first jet was unveiled at the 2013 business aviation convention in Geneva to an industry that – save for a handful of select suppliers – had little idea of what a small team of Pilatus engineers and managers had been up to for the past two years in an isolated hangar on the Stans airport site. It has gone on to be a top seller in the light jet class.
Schwenk was a passionate believer in Pilatus's "Swissness". Despite the country's high labour costs and a vertically integrated production system that involves many of its parts being produced on site, he insisted that the "engineered in Switzerland" badge enabled Pilatus products to retain their residuals and a loyal following despite their premium price.
After stepping back as chairman of Pilatus, Schwenk remained honorary chairman. In a statement marking his passing, his former company described him as "an outstanding entrepreneur" and "talented visionary", adding that the PC-12, PC-21 and PC-24 "bear his signature and will draw his spirit in the skies day after day".