Daher has secured US and European certifications for Garmin's autoland safety system in the TBM 940 single-engined turboprop.
The French airframer says the autoland functionality, which it brands as HomeSafe, can control and land the aircraft without human intervention in the event of pilot incapacitation.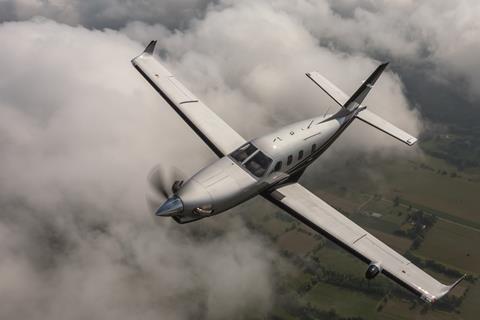 HomeSafe – which is available as a part of the 940's G3000 integrated flightdeck – also analyses weather, traffic and terrain information to select the "optimum airport for landing", says Daher, "considering such conditions as fuel range, flight distance and runway length".
"This is a game-changing step that expands flight safety," says Nicolas Chabbert, senior vice-president of Daher's Aircraft division.
The company's innovation "has taken us to this turning point", he continues, "and we are committed to providing the highest safety and protection to pilots, their families and passengers. Without a doubt, HomeSafe will become an aviation standard."
Autoland was introduced by Daher late last year as part of a package of enhancements introduced on the 2020 version of its high-speed, six-seat aircraft. Customers already in receipt of the current version can upgrade free of charge at any TBM service centre.
The system will also be available for retrofit on all earlier-production 940s at an introductory price of $85,000, says Daher.
The 2020 version of the TBM 940, and its baseline stablemate the 910, also feature an upgraded cabin with "new high-quality leather and material finishes", a "broad choice" of colours for the seat coverings and side panels and a host of "comfort-related" additions such as headset stowage hooks behind the rear seats, additional cup holders and a tablet device holder on the side of the central console.
Regulatory approval of the 940's autoland came two months after the Piper M600 SLS single-engined turboprop became first platform to secure certification for the system. Autoland is included as part of the flagship M600 SLS's "Halo" safety package.
Cirrus is hoping to receive validation for autoland on its Vision Jet within weeks.