Rival bidders for fixed-based operations specialist Signature Aviation have agreed a combined acquisition of the company, prompting the withdrawal of a previously-recommended takeover offer.
A newly-formed UK-registered company, Brown Bidco, is being formed by investors Global Infrastructure Partners, Blackstone, and Cascade.
GIP and Blackstone will each indirectly hold 35% of Brown Bidco while Cascade will indirectly hold the other 30%.
Brown Bidco and Signature Aviation have reached agreement on the terms of a recommended cash acquisition of Signature, other than the 19% owned or controlled by Cascade and BMGFT – entities linked to entrepreneurs and philanthropists Bill and Melinda Gates.
Each shareholder involved in the acquisition will receive $5.62 in cash, valuing Signature at nearly $4.73 billion.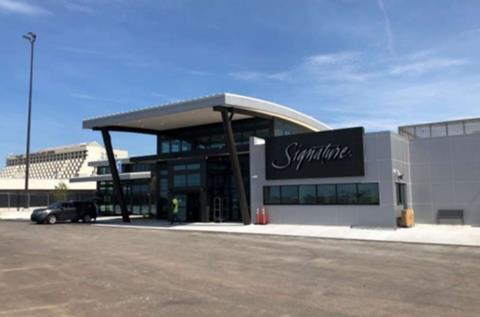 Signature Aviation's directors had, in January, recommended a $5.50-per-share acquisition offer by a partnership controlled by GIP, which had been engaged in a bidding battle against Blackstone.
But Signature says that this offer, as a result of the new agreement, has been "withdrawn".
While the shares held by Cascade and BMGFT will not be acquired by Brown Bidco, Signature anticipates that Cascade will "indirectly contribute" its Signature shares to Bidco once the acquisition becomes effective.
It also expects BMGFT will sell its Signature shares to an entity, dubbed Minority Holdco, which will be indirectly owned by GIP and Blackstone.
Signature Aviation says it considers the terms of the cash offer to be "fair and reasonable" and its directors intend to "recommend unanimously" that shareholders vote in favour of the deal.