Japanese start-up SkyDrive is preparing to fly its electric vertical take-off and landing (eVTOL) test aircraft in public for the first time in August, as it sets its sights on building a thriving air taxi and urban air mobility market in the country on the back the developmental battery-powered design.
SkyDrive says it began flight testing a proof of concept model at its test centre in Toyota in December 2019, and the aircraft "completed its technical verification phase" in March.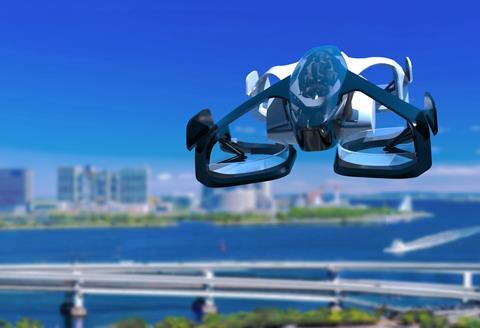 "We have built and flown many scaled models of this flying car, but will publicly demonstrate a one-seat piloted version, known as SD03, in August," says SkyDrive chief technical officer Nobuo Kishi.
The as-yet unnamed programme, is designed for two people and development of the first conforming prototype, SD04, is now under way.
"It will be built to carry a pilot and one passenger initially, but a later, autonomous version will seat two passengers," says Kishi.
Few details have been released to date, but Tokyo-headquartered SkyDrive says the all-composite aircraft will have a maximum take-off weight of 500kg (1,100lb), a cruise speed of 33kt (60km/h), and a range of up to 16nm (30km).
The SD-eVTOL concept was created in 2014 by Japanese technology developer Cartivator – a volunteer group of aircraft, drone and automotive engineers who worked on early versions of the aircraft. SkyDrive was launched in 2018 to commercialise the SD-programme, with former Cartivator members making up the bulk of the staff.
The project has secured 100 "corporate sponsors", including Fujitsu, NEC, Panasonic and Sony, with the level of support SkyDrive, says ranging from "financial assistance to engineering insights and components to the provision of human resources on secondment".
The company plans to bring the aircraft to market in 2023, and Kishi says it will initially be used for aerial tourism and island hopping. The goal is to use the aircraft for intra-city transport to help relieve congestion on the ground, but Kishi says much work still needs to be done to create the necessary infrastructure in these towns and build public support for this new range of transport.
"In Japan, flying cars are anticipated to be used for taxi services in urban areas, as a new mode of transportation on remote islands and mountainous areas, and as a means of emergency transportation in the event of a disaster," says SkyDrive. "As flying cars are inexpensive, quieter, and require compact space for take-off and landing compared to conventional aircraft, they are expected to make flying a routine form of mobility," it adds