UK urban air mobility (UAM) infrastructure developer Skyports has secured £5.35 million ($7 million) in funding from what it calls "quality investors", who share its vision of creating a global network of "vertiports" to support the flegling vertical take-off and landing (VTOL) air taxi market.
"We have three great, influential partners on board who will help us drive the UAM market forward," says Skyports co-founder and chief executive Duncan Walker.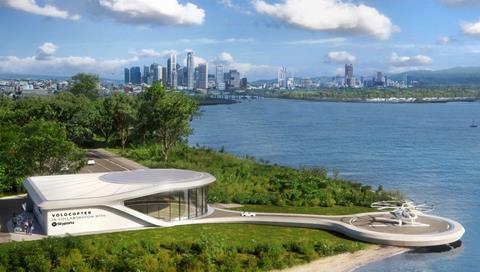 Investors include the Digital Ventures arm of German state railway operator Deutsche Bahn, which is described by Walker as the country's "largest infrastructure owner by a mile, with an amazing portfolio of land, railway stations, carparks and office blocks".
He says some of these sites could be "ideal locations" for potential vertiports across the country, where there is a growing interest from regulators and politicians in the UAM market.
"Germany has a thriving UAM industry with VTOL developers such as Lilium and Volocopter leading the charge, so there is a political drive to make it happen," says Walker.
Skyports has already formed a partnership with Volocopter, with the pair hoping to launch commercial services in Singapore from 2022 with the start-up's in-development VoloCity eVTOL aircraft. The companies conducted flight trials in the city state in October from Skyports' first vertiport using the Volcopter's two-seat 2X prototype.
With its network of 26 airports worldwide, the second investor, Aeroports de Paris, has a "huge skillset" in both airside and landside operations and "moving people seamlessly around their facilities", says Walker. These skills will be vital "as we start to roll out commercial [UAM] operations in multiple markets," he adds.
US venture capital firm Levitate has meanwhile made "a significant new investment" in Skyports , following its seed investment in the company in January 2018. The San Francisco-headquartered company "provides funding exclusively for UAM developers, so it has brilliant connections in this sector", says Walker.
"These strategic investors bring firepower and credibility to an emerging market, and their capital and influence in their respective fields will be a huge help in what has so far been an under-invested part of the UAM market," says Walker.
Skyports says the UAM market is predicted to be worth around $1.5 trillion by 2040 – $850 billion of which will be taken up by passenger vehicles, and $400 billion by the transportation of goods by drone. While significant sums are being invested in vehicle technology – with around 200 projects believed to be under development – without the take-off and landing sites in place, the UAM industry "will fail to realise its market and socio-economic potential", says the company.
Following its "Singapore showcase" in October, Skyports has received substantial interest, Walker says, from "landowners" in the state and other cities worldwide to create vertiports and UAM operations.
"It's a good bet that Singapore will be our first base, but we are also in talks to develop a similar model in cities where there is an acute population density and high level of traffic congestion," says Walter. These include cities in China, Europe, Malaysia, South Korea and the USA – notably San Francisco and Los Angeles, says Walker.