British European Aviation (BEA) is preparing to launch its Piper M600-based charter operation in August, five months after becoming the first company to secure UK approval to perform commercial flights with single-engined turboprops at night and in instrument meteorological conditions – so called SE-IMC operations.
The service, dubbed Escapetime, was scheduled for launch in March with a trio of pressurised M600s, but BEA's plans were scuppered by the coronavirus outbreak across Europe and the region's subsequent lockdown.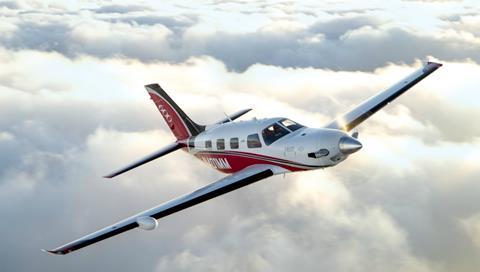 "Because of the continual daily changes to Covid-19 isolation requirements we decided to wait until the various [European] governments had a clear policy, to ensure a hassle-free customer experience," says Sean Brown, chief executive of BEA parent British European Group. The UK firm's portfolio includes Piper's local distributorship for the UK - plus the Channel Islands and the Isle of Man - Republic of Ireland, Portugal and Spain.
Brown describes the delay as "very disappointing", but concedes the extra time has allowed Escapetime to increase its M600 fleet to four, and build demand for the service. "It's been far better than we expected, with a healthy charter book already for August," he says. "Our forward bookings are well above target, and we expect to log around 500h on each aircraft this year."
Brown says Piper's flagship M600 offers "the same capability as a [light] business jet, with full CAT 1 [precision instrument approach and landing] performance and a service ceiling of 28,000ft, but at a much lower operating cost".
The Pratt & Whitney Canada PT6A-42A-powered pressurised aircraft also incurs much lower peripheral costs, such as landing fees, due to its ability to access provincial airports and airfields. These include the company's home base of London Wycombe Air Park, located around 30nm (55km) northwest of the UK capital, to which BEA acquired the lease in 2014. "We offer free parking and while you wait refreshments … no queues, hassle-free travel," says Brown.