A French bid to bring hybrid-electric propulsion to regional air transport from as early as 2022 has unveiled the production configuration of an aircraft family whose largest variant promises to carry 10 people over distances of around 650km (1,200km).
Revealed on 6 May, VoltAero's Cassio will feature a single pusher prop, aft-mounted wing, high tail on a twin boom and canards.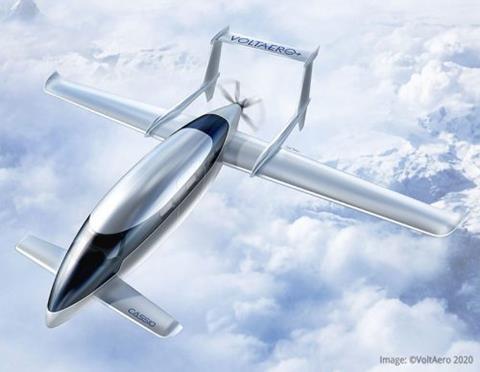 The configuration is radically different than the twin puller/single pusher prototype shown previously – including at the 2019 Paris air show – but will fly on the company's proprietary hybrid drive system that began flight testing earlier this year.
For the current round of flight tests, operating from the company's headquarters at Royan-Medis aerodrome on the Atlantic coast between Bordeaux and La Rochelle, a Cessna Skymaster is being progressively modified with VoltAero's hybrid-electric propulsion system and battery packs.
Early flights feature two Safran-supplied ENGINeUS 45 electric motors and associated battery packs in puller mode added on the wings, with the Skymaster's standard aft-mounted thermal engine contributing power; the Skymaster's nose-mounted forward-facing thermal engine's propeller has run shut down but feathered, available if needed. To date the demonstrator has logged 20h across 50 flights, says VoltAero.
In production configuration, the single pusher prop will be powered by an internal combustion engine – a Nissan petrol engine in original concepts – driving three 60kW electric motors. In standard operations, the electric motors would be used for relatively silent take-offs and landings with the engine extending range or available for direct drive of the propeller.
The hybrid drive system – able to deliver direct mechanical and/or or electric power to the propeller as flight conditions demand – is still in prototype stage and undergoing ground testing before integration on the aircraft.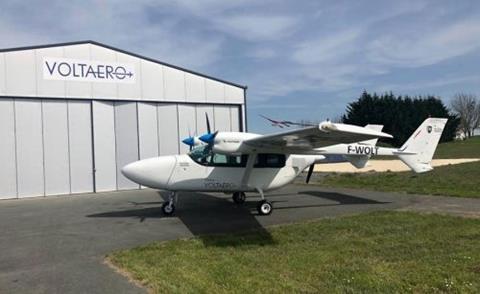 VoltAero's concept is modular, and the company plans to offer three variants. First to market in late 2022 is the four-seat Cassio 330 featuring a 330kW drive system. The six-seat 480kW Cassio 480 and 10-seat 600kW Cassio 600 are scheduled to enter service in 2023 and 2024 respectively, says VoltAero.
Jean Botti, the former Airbus chief technical officer, founded the company with Didier Esteyne - a close collaborator at Airbus during development and testing of the E-Fan all-electric two-seater which made the first all-electric Channel crossing in 2015. The project, says Botti, "benefits from our team's unmatched experience in hybrid-electric aviation".
VoltAero promises a 200kt (370km/h) cruise speed and 3h 30min endurance, extendable to 5h. Take-off and landing distance is projected to be less than 550m (1,800ft) and maximum take-off weight will be below 2.5t to comply with European Union Aviation Safety Agency CS-23 certification requirements.
The all-composite Cassio family will be produced on a purpose-built final assembly line in the Nouvelle Aquitaine region of southwest France. VoltAero says it will also seek partners for licensed production in North America and Asia.