"100 activists storm Europe's biggest private jet sales fair" was one of the lurid headlines from May's EBACE exhibition in Geneva.
Europe's premier business aviation show was targeted by climate protesters, who chained themselves to aircraft stairs and "stuck giant tobacco-style health warning labels on the jets marking them as toxic objects and warning that 'private jets burn our future', 'kill our planet', and 'fuel inequality'," according to Greenpeace.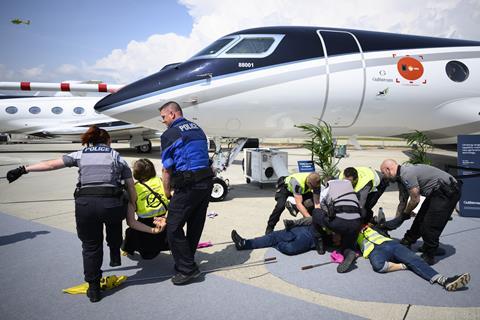 The EBACE protest was one of the most vivid examples of a wave of increasingly visible campaigns by activists demanding a ban on private jets. It is spreading to become a global movement, emanating from vociferous voices in Europe, but protests have taken place in Australia too.
The US market, where the industry is at its largest and most accepted, has not been immune. In November 2022, for example, a co-ordinated series of demonstrations took place at several busy business aviation airports, including Teterboro in New York and Van Nuys in Los Angeles, causing mostly minor disruption.
The business aviation industry has a long record of defending itself from accusations of being a luxury activity. That is an old, although still peddled, story, and one still being rebuffed. The rise of climate protesters and their tactics of direct action, however, is new.
Kurt Edwards, director general of the International Business Aviation Council (IBAC), which represents the business aviation industry at ICAO, says that while anyone is entitled to peaceful protest, action beyond that is unacceptable.
"Protests where people are breaking into airport perimeters, where they are approaching and even damaging aircraft, are illegal acts against civil aviation, and we wish governments were doing more to dissuade that type of conduct," Edwards says.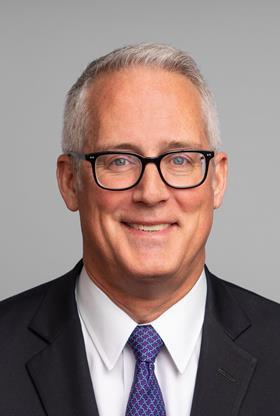 He describes the upswing in protest activity as "supremely frustrating for the industry" and argues that protesters wrongly attach the luxury tag to business aviation and lack an understanding of its true emission levels. Business aviation is a tiny proportion of aviation's total annual carbon emissions, he says.
"What we are seeing among these protests is a conflation of perceptions of inequality with an exaggerated view of business aviation's contribution to carbon emissions," says Edwards. "My view is these folks don't understand the missions of business aviation."
Stewart D'Leon, director, environmental and technical operations at the National Business Aviation Association (NBAA), agrees: "I think the bigger challenge is not necessarily the protest or even what they are protesting, it's the fact that there's such a disparity between what they're protesting and what is happening in aviation and more specifically, business aviation."
The industry does not deny that there are plenty of ultra-high-wealth individuals that own and operate business aircraft. However, this is a minority, with the majority of aircraft being used by companies big and small as a valuable business tool, and, as the Covid-19 pandemic demonstrated, for medical missions.
EXTENDING REACH
In the USA, for example: "It allows small town USA to reach and compete on a level they wouldn't be able to do if they didn't have those aircraft," says D'Leon.
But the arguments to support business aviation are not landing with the protest movement. "There is a concern that actions could continue either in Europe or spread beyond and go elsewhere," says Edwards. "It is at the forefront of everyone's minds in this business."
Industry associations are stepping up event security to ensure there is no repeat of the EBACE incursion, but will work with campaign groups to allow peaceful protest, which took place with other groups at the show. "We must keep attendees and exhibitors safe, while giving the opportunity to those who want to say something," says D'Leon.
Industry leaders accept that it is a mighty task to alter perceptions of the sector. "We live in an age where everyone has a microphone, regardless of whether they have accurate information or not," notes D'Leon. "Our goal is to make sure that the correct information is shared when it needs to be shared."
Over the past decade and more, the industry has communicated its messages better, acknowledging its climate impact and establishing strategies to address its carbon emissions, Edwards says. A key component of this in 2021 was the updating of the 2009 Business Aviation Commitment on Climate Change (BACCC) to achieve net-zero carbon emissions by 2050.
Whether it is encouraging greater production of sustainable aviation fuels (SAF) or delivering better communications, the industry does need to do more. It will use the staging of its NBAA-BACE show in Las Vegas as the perfect opportunity.
"Watch this space, but the industry is working on campaigns and on messaging and is focused on figuring out to whom and how we should be getting out our very positive story," says Edwards.
While it tackles perceptions about its validity, the industry is also fighting for another fundamental right: airport access. Last year, the European Business Aviation Association (EBAA) noted an increase in political calls for greater regulation of private jet flights, including the idea of bans or more taxation.
REDUCED ACCESS
The most high-profile case has been at Amsterdam Schiphol airport, where the airport operator and later the Dutch government were proposing to reduce the number of flights per year and bring in a ban on business jets and night flights at the hub.
The government announced its decision in early September. There will be a reduction in flights from 500,000 per year to 452,000, implemented by November 2024, but a suggested ban on private aircraft has "come to a halt, following EBAA's effort to voice the crucial connectivity role played by the sector in the Netherlands", the association says.
A ban at Schiphol may have been averted, but the industry is concerned about the proposal spreading to other countries, not just in Europe.
"These actions are short sighted and politically motivated," says Edwards. "Communities that bring in bans or reduce operations are going to lose out. Ultimately, the use of business aviation is going to continue, and the traffic will simply go somewhere else nearby."
In the USA – up until now – the main environmental issue has been around noise at airports and there have not been calls for bans. But it is an issue the industry watches closely, to see if such sentiment creeps into the US market, says D'Leon.
Kennedy Ricci, the president of 4AIR, is well-placed to judge business aviation's progress on sustainability. He founded 4AIR in early 2021 with the aim of developing sustainability programmes that enable operators and airlines to meet industry commitments, satisfy regulatory compliance needs or undertake voluntary action.
"Two years ago, the conversation around sustainability was mainly at the introduction level, but that has moved on," says Ricci.
"The questioning has matured," he adds. "People are asking if carbon offsets are the right solution. How sustainable is my SAF? What is the right mixture of offsets and SAF in my operation? How do I build a five-year plan for SAF procurement?
"For our programmes, we see people start with offsets as their first move into sustainability," he says. "It is the easiest way to get involved and helps put a price on carbon against your carbon footprint."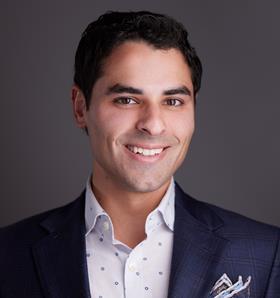 4AIR has 100 clients, ranging from fixed-based operators (FBO) like Clay Lacy Aviation to business jet operators like Verijet and OEMs such as Embraer and GE Honda Aero Engines.
Many ask 4AIR to design a sustainability approach that meets their needs. It can then help deliver a programme that includes offsets and SAF, says Ricci. Since it began operating, 4AIR has offset or reduced well over 2 million tonnes of carbon dioxide (CO2) using verified carbon offset credits and SAF.
Ricci estimates the total annual CO2 footprint of business aviation globally to be 20-30 million tonnes. "There's a long way to go to meet carbon neutrality for the industry, but being able to show we have addressed almost 5% of the industry's footprint per year shows we are making significant steps," he says.
If 4AIR's offset contribution is added to those of other programmes, the 5% figure rises. The industry's largest fractional aircraft ownership company, NetJets, says it supports multiple carbon reduction projects via its Blue Skies programme. This began in 2008 and to date 210,000 tonnes of CO2 have been offset globally.
Leading US-based fractional jet provider Flexjet was an early adopter of offsetting and has been working with partners across sustainability, SAF and electric vertical take-off and landing aircraft.
"As industry leaders, we are always looking for opportunities to identify and tap future sustainability technologies," says Andrew Collins, co-chief executive of Flexjet. "For example, we offset at 300% all flying in Europe at no cost to our customers."
Flexjet and its sister brands, including jet card pioneer Sentient Jet, bespoke charter providers FXAIR and PrivateFly, as well as MRO providers Constant Aviation and Flying Colours, are owned by private aviation investment player Directional Aviation.
Collins says that Flexjet has planned its offset strategy carefully, ensuring customers are fully aware of what they are buying and why. "And unlike other providers, Flexjet includes complimentary carbon offsets to its customers – eliminating the guesswork. It is interwoven into the programme because that way we feel it has the most impact. Combine this with our brand and our credibility and clients trust us," he says.
As the number of business aviation players buying offsets rises, so too are the number buying SAF, despite its low production volumes today. This is changing as more SAF plants come on stream.
PROVIDING INCENTIVES
Regulations and incentives to promote the manufacture and uptake of SAF are helping as recognition grows of its importance for aviation to collectively reach the 2050 net-zero target.
In February, the US government launched the 'SAF Grand Challenge', which set down US SAF production goals of 3 billion gallons by 2030, and 35 billion gallons by 2050.
The US Inflation Reduction Act had already provided support for SAF the previous month, with the US government offering tax credits for every gallon of SAF produced.
As a sector, business aviation has taken strongly to SAF, first during the pandemic, when airlines did not need it and private jets were the only way to fly. That early uptake has continued, with large players making commitments and an increasing number of corporate flight departments and family offices taking SAF blends for their aircraft.
"In North America, only 3.5 to 4% of the total amount of jet fuel delivered to aviation is consumed by business and general aviation, and yet in 2022 14% of the SAF produced was bought by this sector," says Keith Sawyer, manager of alternative fuels at Avfuel, a leading independent supplier of aviation fuel and services based in the USA.
Avfuel is one of the players, others being Flexjet and NetJets, that have invested in SAF production firms to deliver a strong demand signal.
"We have invested early in SAF because we're trying to drive its growth in business aviation," says Collins. "By 2030, SAF will be at least 12% of our in-plane fuelling," he says of Flexjet's plans.
"In 2021, NetJets Europe became the first private aviation company to purchase a stake in the production of SAF with BP," the operator says. It adds that globally NetJets purchased more than 4.2 million gallons of SAF last year, making it the largest buyer in the industry.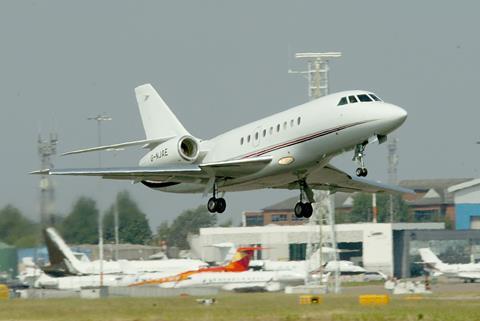 Sawyer, who spent 40 years with Chevron, took on his role five years ago to build Avfuel's supply of SAF – in addition to its other sustainability-related programmes – for its business and general aviation customer base. Most is currently supplied from Neste's SAF plant in California.
Avfuel supplies a consistent inventory of SAF to 14 FBOs in western states, such as California and Colorado. For instance, SAF is available at FBOs like Monterey Jet Center and Del Monte Aviation at Monterey Regional airport, and six Atlantic Aviation FBOs in those two states.
That number and its geographic scope is growing, in addition to consistent SAF supply directly to numerous corporate flight departments and major aircraft OEMs. "It is somewhat easier to add SAF for the business aviation market, as the lower volume required, compared to airline operations, means it can be delivered by truck," notes Sawyer.
INCREASING PRODUCTION
The number of locations with SAF on tap will mushroom as production increases in the USA, Canada and Europe, and the industry will likely secure more than its fair share. "I expect business aviation will continue to acquire more supply. We are very active in that arena and anticipate having additional supply available in North America soon," says Sawyer.
In parallel with increased SAF capacity, the concept of book and claim for SAF is being widely promoted. This is where operators buy SAF at an airport where it is unavailable and receive credit for its supply and use at one where it is.
Several players, including Avfuel, are now using their own book and claim systems, allowing customers to count the SAF they buy as their own for environmental, social and governance (ESG) reporting purposes.
There is also an industry-led initiative, supported by IBAC and the NBAA, along with major global aviation associations including IATA, called the Council on Sustainable Aviation Fuel Accountability (CoSAFA), to develop transparent, credible book and claim accounting and auditing methodology.
"In the absence of wider distribution of SAF we need a system to both encourage more producers to come online and to enable them to sell their product at places where it is not available, and book and claim is key," says Claude Hurley, director environment and flight operations at IBAC.
The CoSAFA effort is being presented at ICAO and to several states to generate support, so that the methodology can be recognised at a global level to ensure acceptance and widespread implementation. "This is important to achieve credibility of the SAF system as a whole," Hurley says.
The idea is that ICAO and individual states do not need to develop their own book and claim system. If they understand what it is designed to achieve, they will gain trust in the methodology so that SAF use is never double counted, offering all parties confidence for ESG reporting, adds Edwards.
"If we can get the CoSAFA methodology over the finish line, this will show the industry they can have confidence in the fuel attribute as it moves around without physically moving the fuel," says D'Leon. "I think that's going to be a 100% game changer and generate a significant boost in demand."
For business aviation, the availability of greater volumes of SAF, plus the introduction of a credible book and claim scheme, will be crucial as the industry strives to meet its sustainability targets. Both are gaining momentum.
Some also want to move fast to ensure public opinion does not turn against them. "There are airports that are very keen to profile themselves as environmentally sensitive and reflect the environmental values of their community," notes Sawyer.
He points to the example of Truckee Tahoe airport, which serves the Lake Tahoe region, a popular leisure destination in the western USA. "It is public information that this airport, which is in one of the most pristine environmental areas of the world, is currently at 100% SAF," he notes.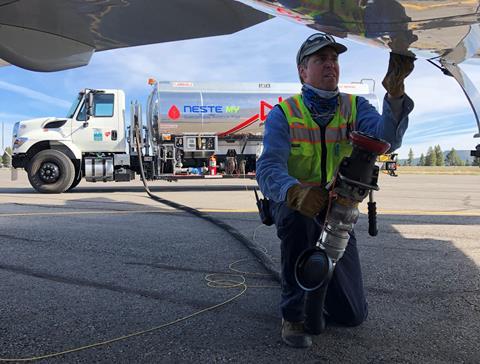 Being ahead of the game like this is essential, says Scott Cutshall, senior vice-president development and sustainability at Clay Lacy Aviation.
"We need to take control of our own future in business aviation, and everybody must do their part by starting to operate more sustainably," he says.
The alternative – greater regulation – is unappealing, says Cutshall. "The more we take the action, the less regulation there will be, because we're taking responsibility for ourselves."