After starting in the back of the aircraft, Alex Hawthorne completed an MPL with easyJet and became a first officer with the airline two years ago. She is based in Venice
What is your role with easyJet?
In day-to-day operations, I support the captain in flight preparations, such as preparing the weight and balance forms, supervising refuelling, and conducting pre-flight inspections to ensure all navigation, safety and operating systems are working correctly. I generally fly four sectors per day, especially during our busiest season of summer, to various destinations – mainly in Europe. In terms of flying tasks, I share equally the workload with the captain. On each sector, one will perform the pilot flying, and the other pilot monitoring. We work as a team and assist each other to always ensure the safety of our passengers and crew.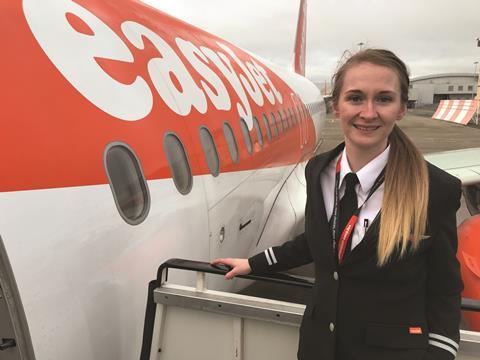 What was your path into aviation?
I emigrated from Ireland to Canada in 2007, and began my career by obtaining my private pilot's licence at Waterloo-Wellington flight school in Ontario. But once I discovered what my stepdad and other pilots in Canada had to go through to make it in the airlines (building thousands of hours bush flying or instructing), I decided my best option was to go back home to the UK and try to gain direct entry into an airline via a cadet programme. While I explored programmes and courses to apply to, I took a position that I thought would give me some insight into the business – I became cabin crew for British Airways. This experience was very rewarding, though short lived – after only one year of being cabin crew, I was accepted into the easyJet MPL scheme to train at CAE Oxford. After an intense two years of training, I had the qualifications to fly Airbus 320s.
Why did you want to become a pilot? Who were your main influences?
The influences that led me to my current career path were my parents and grandfather. My mum was the one who first introduced me to the world of aviation. Growing up in Northern Ireland, I saw her do what seemed very uncommon – she would jet off in style to various destinations around the world as cabin crew. I was in awe of her stories, and her apparently glamorous lifestyle. My grandfather was an aircraft engineer in the British Royal Navy. His stories of the aircraft and how they worked intrigued me. This led me to join the Royal Air Force cadets at the age of 13. My idea was to become a fighter jet pilot, after seeing Tom Cruise in Top Gun! However, I learned that even if you did make it in this side of the industry, with that one-in-a-million chance, flight hours per year were low. Meanwhile, and apparently at just the right time, my Canadian stepfather came into my life. He is also a commercial airline pilot – currently a captain on A320s with Air Canada. He made me see that this was a viable option to aim for, at a time when female commercial pilots were becoming more common in the industry too.
What are your career aspirations?
The natural progression for a first officer is to become a captain, and that is definitely my goal. To be in absolute control of a jet has been my dream since I was a young girl. I would also consider getting into the training side of things, and perhaps the recruitment process for pilots. I would like to support and guide cadets into this magnificent and fulfilling role, as I was.
What advice would you give to any young woman or girl considering a career as a pilot?
When it comes to being a good pilot, gender is irrelevant. Don't discount this career path simply because you're a woman. Historically, it was merely a matter of young girls not being aware that this career option is open to them. Thankfully, that stereotype is slowly changing, and more young women are choosing to become commercial pilots. Previously, there were a lack of female role models in this industry, but that is no longer the case. Women are also typically very good at juggling and prioritising heavy workload scenarios, which is absolutely essential in this role. So my advice would simply be to go for it – women are every bit as capable as men.
This content was paid for by CAE and created in association with FlightGlobal