From a pre-First World War French aristocrat to a modern-day former Afghan refugee, women aviators have been making history for over a century. We celebrate 10 of the best
Raymonde de Laroche
French aviator Raymonde de Laroche became the first woman to make a solo flight in 1909, after convincing her friend and aircraft builder Charles Voisin to let her taxi one of his creations. She reportedly ignored his orders to stay on the ground and briefly lifted off.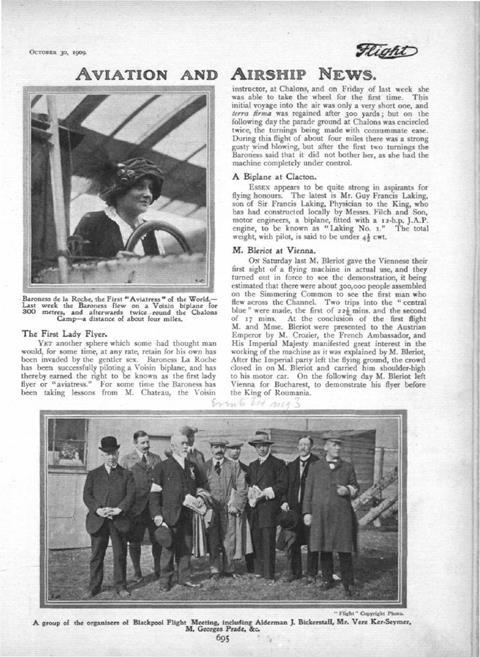 Demonstrating both the barriers to entry that women faced and the importance of this milestone, a 30 October, 1909 article from Flight – the predecessor to Flight International – said: "Yet another sphere which some had thought man would, for some time, at any rate, retain for his own has been invaded by the gentler sex. Baroness Laroche has been successfully piloting a Voisin biplane, and has thereby earned the right to be known as the first lady flyer or 'aviatress'."
On 8 March 1910 Laroche became the first licensed female pilot in the world, when the Aeroclub de France issued her papers.
Amy Johnson
Yorkshire, England-born Amy Johnson became the first woman to fly solo from England to Australia after taking off from London Airport, Croydon on 5 May 1930, headed for Darwin. In the following two years Johnson piloted other record-breaking flights to Moscow, Tokyo and Cape Town, making her one of the UK's most well-known female aviators.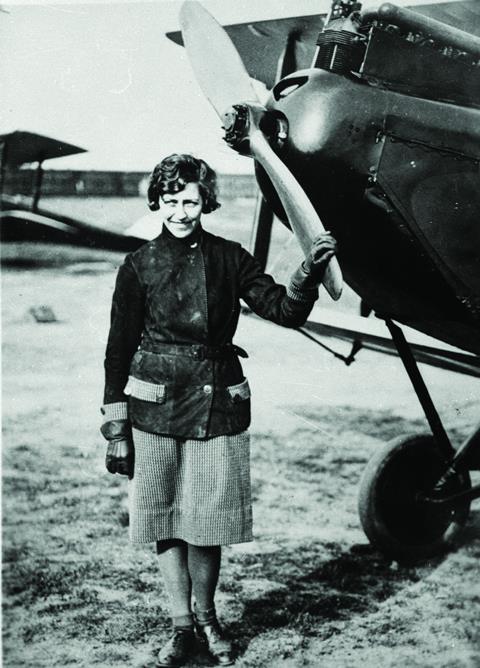 When the Air Transport Auxiliary was formed in 1940 to deliver aircraft to Royal Air Force (RAF) airbases during the Second World War, Johnson signed up. She lost her life on 5 January 1941 when an Airspeed Oxford aircraft she was delivering flew off course in adverse weather conditions and crashed into the Thames Estuary.
Johnson's body was never recovered, but her memory lives on. easyJet named a positive action campaign to boost female pilot numbers after her, and the Royal Aeronautical Society's Women in Aviation and Aerospace Committee holds Amy Johnson lectures at its London headquarters.
Bessie Coleman
"The air is the only place free from prejudices," US aviator Bessie Coleman is quoted as saying. She went on to defy racial and gender prejudices to become the first black woman to earn a pilot's licence in 1921 – but her journey was not straightforward.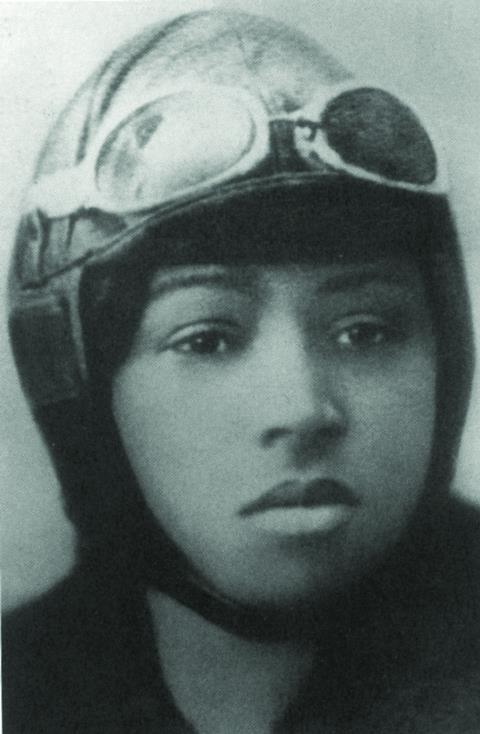 After moving to Chicago, Texas-born Coleman decided she wanted to be a pilot. However, US flight schools did not admit women or African-Americans at that time, so she learned to speak French and in 1920 travelled to Paris to earn her pilot's licence. She then took advanced training courses in Europe before returning to the USA, where she performed stunt flights at air shows and earned the nickname "Queen Bess".
Coleman did not get to realise her dream 
of opening a flight school for black aviators before her untimely death in 1926, at the age of 34, when her Curtiss JN-4 crashed in Florida.
Helen Richey
Helen Richey was the first woman to be hired as a pilot by a US commercial airline. She joined Pennsylvania-based carrier Central Airlines in 1934 but was not allowed to fly in bad weather and was denied the right to become a member of the pilots' union.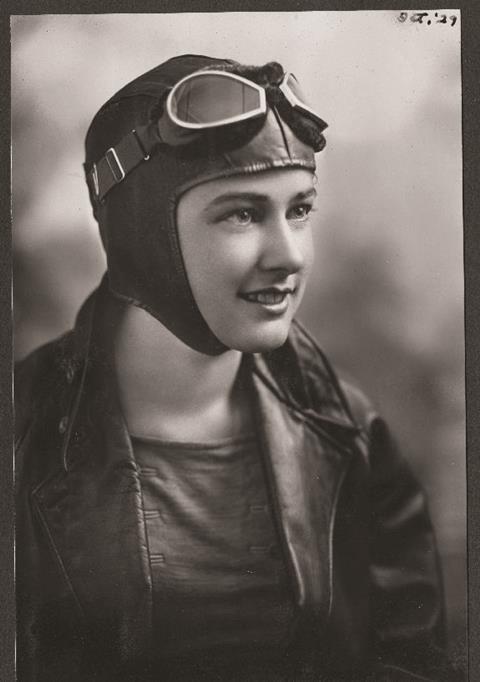 During the Second World War Richey joined the UK's Air Transport Auxiliary before returning to the USA and joining the Women Airforce Service Pilots (WASP) organisation. According to the Smithsonian National Air and Space Museum's website, Richey was "unable to find aviation employment after the WASPs disbanded in 1944" and committed suicide in 1947.
Lynn Rippelmeyer
Former flight attendant Lynn Rippelmeyer was the first woman to fly the Boeing 747 and the first woman to captain the type across the Atlantic.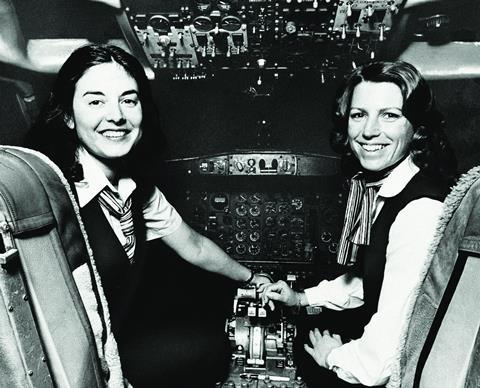 She began her aviation career in 1972 as a TWA flight attendant, before taking flying lessons and eventually being hired as a first officer at Air Illinois in 1977. In the early 1980s she joined cargo operator Seaboard World Airlines and flew the 747. Rippelmeyer then joined People Express Airlines and became the first woman to captain a 747 across the Atlantic. Landing in the UK she received great interest from the press, was later named Woman of the Year in England – the first American to receive that accolade.
In an interview earlier this year with US broadcaster PBS, Rippelmeyer said: "My hope for women in aviation is that we become so commonplace that it is no big deal."
Beverley Bass
Florida-born Beverley Bass was originally discouraged from taking flying lessons by her parents, who wanted her to focus on the family's racehorses. But her determination to fly led to her becoming American Airlines' first female captain in 1986, a decade after being hired as the carrier's third female pilot (Bonnie Tiburzi was the first). Later that year, Bass hit the headlines again when she led the first all-female crew of a commercial airliner.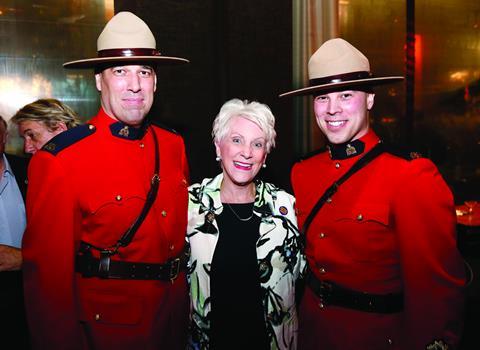 On 11 September, 2001, Bass was piloting an American Airlines Boeing 777 from Paris Charles de Gaulle to Dallas Fort Worth. Her aircraft was one of 38 to be diverted to Gander in Newfoundland when US airspace was closed in the wake of the terrorist attacks. The generosity shown by local people to the scores of stranded passengers and crew was later portrayed in a Broadway show, Come From Away, with one of the main characters based on Bass.
Amelia Earhart
American aviator Amelia Earhart became the first woman to fly solo across the Atlantic when she took off in a single-engine Lockheed Vega 5B from Harbour Grace, Newfoundland, bound for Paris, on 20 May 1932. Strong winds and mechanical problems prevented Earhart from reaching Paris, but she touched down 14h 56min later in a farm field in Northern Ireland, securing her place in the history books.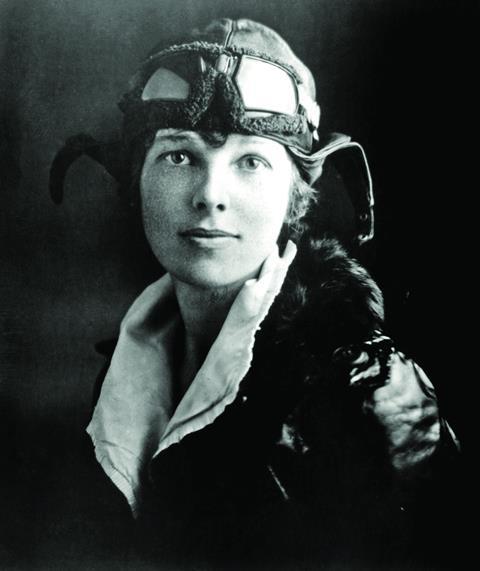 In the years that followed, Earhart became the first person to fly solo from Hawaii to California, and from Los Angeles to 
Mexico City.
In 1937, she set out to become the first woman to fly around the world. In June of that year Earhart and her navigator, Fred Noonan, took off from Miami, Florida for the 25,000nm (47,000 km) journey. However, radio contact was lost as their Electra 10E aircraft approached Howland Island in the Pacific Ocean in early July. A prolonged search and rescue effort found no sign of the aircraft or crew, and Earhart's disappearance remains a mystery to this day.
Emily Howell Warner
Four decades ago, women in the flightdeck were a genuine rarity. Born in Colorado in 1939, Emily Howell Warner became the first female captain at a scheduled US airline in 1976, three years after joining Frontier Airlines as the country's second female commercial pilot. In between these two achievements she became the first woman member of the Air Line Pilots Association (ALPA).
At the age of 17, a visit to the cockpit during a flight inspired her to learn to become a pilot. She became a receptionist at her local flight school and took flying lessons on her days off. After working her way up to flight school manager and chief pilot, and later becoming a US FAA pilot examiner, Warner joined Frontier as its first female pilot.
Barbara Harmer
Former hairdresser Barbara Harmer became the first female Concorde pilot in 1993. She spent the next decade piloting regular transatlantic Concorde flights for British Airways, until the supersonic jet was withdrawn from service in October 2003.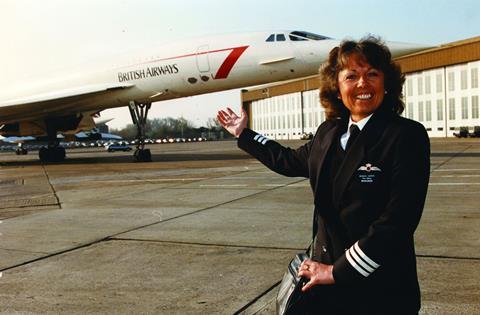 Harmer was born in Essex, UK in 1953. She left school at the age of 15 to become a hairdresser before switching to train as an air traffic controller at London Gatwick. Bitten by the aviation bug, she took flying lessons and gained her commercial pilot's licence in 1982. She was flying long-haul McDonnell Douglas DC-10 flights for British Caledonian when it merged with British Airways in 1987, and then took a Concorde conversion course to become the first qualified female Concorde pilot on 25 March 1993.
Harmer passed away in 2011.
Shaesta Waiz
In 2017 Afghanistan-born Shaesta Waiz became, at the age of 30, the youngest woman to fly solo around the world in a single-engine aircraft – a mission she undertook to inspire other women to pursue careers in science, technology, engineering and maths (STEM) fields.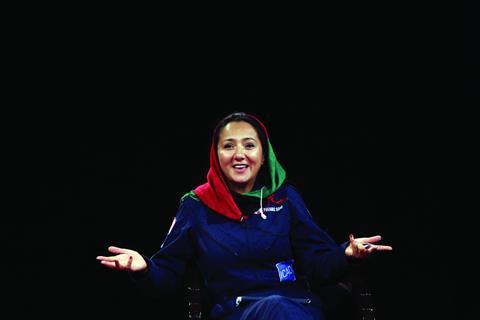 Waiz's round-the-world flight departed Daytona Beach on 13 May 2017, and included 30 stops in 22 countries – each of which was "strategically selected based on the need for STEM outreach".
On the website for Dreams Soar – a non-profit organisation founded by Waiz – she describes how being born in a refugee camp in Afghanistan and emigrating to an "underprivileged" area in California during the Soviet-Afghan war in 1987 inspired her to "share and promote the importance of STEM" to young women around the world.
This content was paid for by CAE and created in association with FlightGlobal