Five well-known carriers are partnering with CAE in an innovative scholarship scheme that recognises the need to bring more women pilots onto the flightdeck
In an effort to drive up the percentage of women in the cockpit, airlines are taking proactive steps to encourage more female applicants to join their cadet programmes – and these actions are slowly beginning to yield positive results.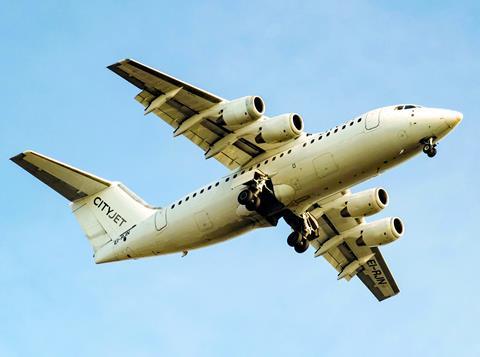 Five global airlines – Aeromexico, American Airlines, AirAsia, CityJet and easyJet – are collaborating with flight training provider CAE on its Women in Flight scholarship programme. Under the initiative, CAE awards five full scholarships to selected female candidates from cadet training programmes mentored by the five carriers.
These airlines report sharp rises in the number of new entrant pilot applications from women since they started to prioritise gender equality in the cockpit, but they acknowledge that there is still a long way to go.
Of the 42 female pilots recruited by Irish regional carrier CityJet so far, for instance, 31 were hired in the last four years. The wet-lease operator currently employs 26 female pilots, which represents 5.9% of its total pilot workforce.
"We recognise that there's a need to increase that figure," says Robert Campbell-Smith, general manager of flight operations at CityJet. The carrier has set a "very ambitious" target for 10% of its pilots to be women by the end of 2022.
To achieve this aim, CityJet has launched an ambassador programme through which "female pilots have been recruited locally as internal brand ambassadors", says Campbell-Smith. Those ambassadors will also have an external role that will see them visit schools to promote their profession to "the younger generation, prior to them making their education decisions".
CityJet is also working to ensure that female pilots feature prominently in its promotional literature.
"Historically, the advertising material that we've put out for pilots over the last five to 10 years has been quite male-orientated. But we've been changing that to make the face of CityJet not just male, but also to include our female pilots," says Campbell-Smith. He believes that this change has contributed to an increase in the number of female pilot applicants over the past few years.
CAE announced last year the names of the first three winners of its Women in Flight scholarship programme, one of whom was CityJet's Bisma Petafi. Campbell-Smith says Petafi is "passionate about the idea of sitting in the flight deck", and will be a "fantastic ambassador" for encouraging more women to take up flying careers.
At Aeromexico 93 pilots are women, representing 5% of the total cockpit crew workforce. The Mexico City-based carrier says it is "aware that this is only the beginning" and is working "to create more innovative mechanisms for us to increase more and more the participation of female pilots". This includes developing policies to ensure that there is "a balance between personal and working time".
In addition to maternity leave, which is granted "regardless of marital status or sexual orientation", Aeromexico offers "home office and flexible time policies for all our employees".
"Empowering women not only means providing the necessary tools to fully develop, but it is also an opportunity to help us boost the talent of our entire team and generate new work dynamics where equity and inclusion are always present," adds the airline.
Ernesto Tapia, managing director of Aeromexico's training centre, acknowledges that the airline pilot profession has "traditionally been dominated by men" but says the carrier "wants to break with this tradition".
In addition to joining CAE's Women in Flight programme, Aeromexico has embarked on "a big advertising campaign to promote the role of women in aviation", says Tapia, in order to "reinforce the message that women are very important for the aviation industry in Mexico".
Aeromexico says it is particularly committed to achieving the fifth objective of the United Nations' Sustainable Development Goals – gender equality. The airline wants to "lead the path where we can have a balance between genders".
UK-based easyJet launched its Amy Johnson Flying Initiative in October 2015 with the objective of doubling the number of female new entrant pilots from 6% to 12% within two years. Under the initiative, easyJet agrees to underwrite the £100,000 ($121,650) training loans for six female applicants in each annual intake.
The carrier hit its 12% target within the first year of the initiative and is now working towards a goal for one-fifth of its pilot intake to be female by the end of this year.
"As a result of the campaign, in 2016 easyJet had doubled the intake to 12% and has been working ever since towards its ambitious target of 20% by 2020," says the airline.
By the end of last year the number of female new entrant pilots at easyJet had reached 15% – a figure that is "set to increase", putting the carrier "well on track" to reach its 2020 target.
"When we set out the goal we expected that 20% would equate to 50 female pilots. Owing to our growth, we have attracted more than 50 female pilots in 2019, and now have more than 200 female pilots flying for easyJet. This is around 5% of our growing pilot community," the airline says.
easyJet is already looking beyond its 2020 target. The airline says that attracting more female pilots to join its operation "will continue to be a priority", and it is "currently looking at what the next steps will be as part of our commitment to diversity and inclusion across the airline".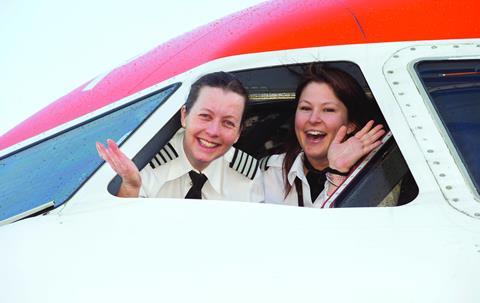 According to the International Society of Women Airline Pilots, the global percentage of female pilots flying for Part 121 airlines is 5.03%, dropping to 1.33% for female captains. Regional variations range from 1.55% in Asia to 9.78% in Africa. In Europe and North America, 5.61% and 5.37% of pilots are female, respectively, while in South America and the Middle East the figures are 5.09% and 2.05%.
In Asia, where the percentage is below average – with the exception of India, which boasts a 12.4% female pilot rate – AirAsia bucks the trend.
"We have one of the largest percentages of female pilots in aviation at around 6.3% of the airline's total pilot base, or 220 female pilots flying across Asia Pacific," says the Malaysia-based airline group's chief people officer, Varun Bhatia.
"AirAsia's boundaryless company culture means we are committed to attracting and retaining talent irrespective of gender, sexuality, race or religion, and we actively participate in initiatives such as CAE's Women in Flight programme to encourage women to consider and commence a career as a pilot."
AirAsia employs a total of 3,500 pilots. It recruits about 20 cadet pilots each month and is currently training 260 cadets in various locations across the Asia-Pacific region. The airline says it pays "close attention to career progression and employee benefits, such as providing work-life balance and competitive remuneration".
While efforts to boost the number of female pilots at proactive airlines are starting to bear fruit, there is still a long journey ahead before true gender parity reaches the flight.
This content was paid for by CAE and created in association with FlightGlobal