Research by CAE using interviews and other data sources has begun to get to the bottom of why so few females want to be pilots in the first place, and how this can be addressed
Over the past few decades women have made huge strides in formerly male-dominated professions. Hire a lawyer, and there is four in 10 chance they will be female. If you are treated by a physician or surgeon, more than one time in three it will be a woman. One in five air traffic controllers are female, and one in 10 engineers. Yet of every 20 airline pilots, just one is a woman, according to research by CAE. And, while that figure is significantly higher than in 1960, when just one in 500 pilots were women, female representation has grown far more slowly than in other careers with high social stature and above average rates of pay.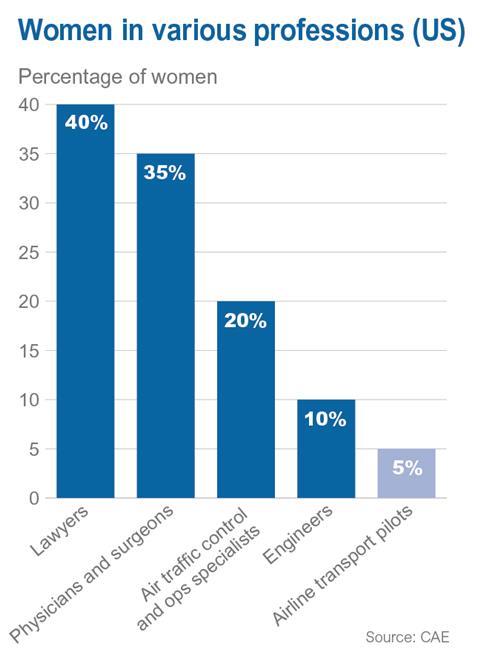 The story is not universally bad, with some territories much better than others when it comes to opportunities for women. For instance, in India, one in eight pilots is female. However, in Australasia, Europe and North America, the percentage hovers just above the global average of around 5%, and in regions where aviation has been growing such as Africa and Latin America, the proportion is lower. In China and the rest of Asia, excluding India, and in the Middle East, 2% or fewer of airline pilots are women.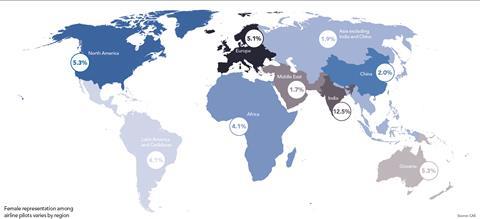 The news is also more encouraging when the data focuses on gender diversity in the "pipeline", looking at the proportion of women pilots in various age groups, although the findings here too highlight some concerns. A study conducted for CAE in the USA in 2011 showed that the highest percentage of women pilots was in the 30-34 age category, at 7%, falling sharply through the age categories to around 1% for pilots aged 60 and above.
Research carried out five years later shows an almost identical graph, with the main exception being that the proportion of women pilots has risen slightly across most age groups, but the peak of around 7% has moved forward to pilots in their twenties. In 2011, in the 20-24 age group, just 4% were women, rising to around 6% for those in the 25-29 age category. However, the 2016 figures show a slightly lower percentage of women pilots in their thirties than five years earlier, although between the ages of 40 and 70, women have nudged up their representation.
There are various theories for this. The rise in the proportion of women pilots in their twenties between 2011 and 2016 could be down to the impact of programmes to encourage girls to take up a career in the cockpit. However, the 30- to 34-year-olds in 2011, who would have been 35-39 in 2016, did not maintain their representation as they aged. This could be a result of an influx of men entering the profession in that age group, from the military and other careers, or women leaving for family reasons.
Along with McKinsey, CAE has looked into the root causes behind low female representation on the flightdeck, conducting more than 150 interviews and pulling data from more than 35 sources. The research concluded that women entering the pilot profession have usually met three criteria: they will have had an awareness of aviation as a realistic career option; they will have an academic background that has a strong grounding in mathematics and physics; and they will have been exposed to female role models.
Interviews concluded that early exposure to aviation – often through family members who have been pilots or cabin crew, or by growing up near an airport or military base – as well as frequent flights from an early age are crucial factors. Job descriptions and marketing materials are also an influence. Traditionally, many of these have had a male bias, with men rather than women used in publicity photographs or case studies. Thankfully, this has been changing with some organisations working hard to share images that reflect aspirations to a more inclusive environment.
Additionally, interviews revealed that many female pilots had enjoyed science, technology, engineering and maths courses in high school. This applied to many that did not discover a passion for aviation until later. Given the importance of an understanding of STEM principles to being a pilot, addressing the gender imbalance among girls studying such subjects at an early age would perhaps go some way to promoting greater gender diversity in the cockpit.
A study in the UK looked at how both girls and boys aged seven to 11 saw their future professionally. Even at this young age, gender differences are making themselves felt. A career as a pilot was 11th most popular career for boys, but ranked 27th for girls. While among those aspiring to the top 20 professions, more girls than boys expressed an interest in STEM subjects, this was skewed by the 18.6% of girls who wanted to be doctors or veterinarians. Boys had a more even split between those wishing to be scientists, engineers, doctors and other professions.
Based on those numbers, male interest in the pilot profession outweighs female interest by four to one – in the UK at least. However, this would result in females making up 20% of pilots assuming that all the boys and girls pursued their early professional ambitions. Given that the proportion of women airline transport pilot licence holders in the UK is only around 4.3%, it means that many girls are losing interest in aviation before they enter the training pipeline, either because they later consider that aviation is not for them, or they lack the academic background to follow it.
Popular culture and the military must perhaps share much of the blame. With very few exceptions, Hollywood pilots have been men. The exclusion until fairly recently of women from frontline military aviation has also helped reinforce the message that flying an aircraft – whether an airliner or fast jet – is no job for a woman. Girls need role models and creating them in aviation is as much a challenge for wider society as it is for the industry itself.
This content was paid for by CAE and created in association with FlightGlobal