Whether in discussions at high-level summits or studied in new research partnerships, gender diversity is becoming a high-profile topic in aviation. In contrast to the many highly skilled professions that have achieved significant progress towards gender parity, aviation is a single outlier. Today, aviation is leaving half of its available pilot talent pool on the bench.
While diversity stretches well beyond both gender and the flight deck, the lack of gender diversity specifically among airline pilots illuminates the issue in a highly visible way. Women have historically been underrepresented in flying for several reasons, including legal ones via military combat exclusion and cultural factors such as gender bias in career aspirations, fewer women in math and physics studies, and a lack of role models.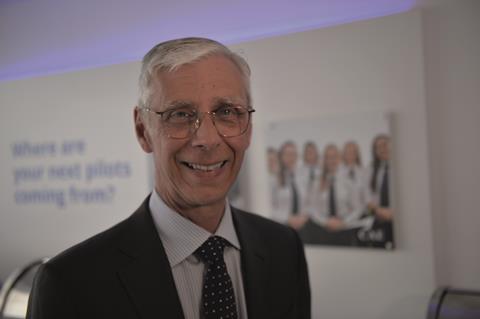 Female or male, people become pilots for the same reasons. To begin with, they love flying. An office with a view beats a desk job any day. Secondly, they are part of an elite group of professionals that are respected for their talent. And most of all, they are members of a proud family of trailblazers. Through the years, many aviation pioneers were women. Despite the significant contribution to aviation made by many women over more than a century, we still have a long way to go when it comes to pilot gender equality. While women have broken the "glass ceiling" in virtually every other industry, women still represent less than 5% of pilots in commercial aviation. With over 300,000 new pilots needed in the civil aviation industry over the next decade, CAE is taking a proactive approach to promote a better gender balance, greater diversity and inspire even more women to join the pilot profession.
Through our CAE Women in Flight programme, we are creating role models and awarding up to five full scholarships every year to CAE's cadet pilot training programmes across our global training network. This competitive programme launched in 2018 seeks female ambassadors who demonstrate leadership skills, active involvement in their communities, perseverance, who are passionate about aviation, and can inspire more women to join the profession. In addition to covering the costs of the cadet training programme, including accommodation and travel, CAE is also providing selected candidates with access to their first job through our airline global partners.
We are proud of the Women in Flight programme, and we will continue to promote and support gender diversity in the aviation. We encourage the industry to exchange and engage on the state of gender diversity in aviation and share ideas for making scalable changes.
CAE has performed extensive research on this topic, creating what is likely the most comprehensive set of data available on gender diversity among pilots today, some of which are highlighted in this report.
We are happy to share our views and some of the results of our studies, and we look forward to a continued dialogue.
There is an exciting future that awaits a new generation of female pilots, and I personally invite you to read about the 
trials and triumphs of some of today's 
women in the aviation industry on the following pages.
Nick Leontidis
CAE Group President, 
Civil Aviation Training Solutions
This content was paid for by CAE and created in association with FlightGlobal