Bell recently demonstrated its Autonomous Pod Transport 70 (APT 70) cargo drone autonomously delivering a package over a 4mi (6.44km) preprogrammed route in north Texas.
The demonstration took place on an undisclosed date at the AllianceTexas Mobility Innovation Zone, a region that is agreed to allow testing of and experimentation with novel ground and air transportation vehicles amid, as well as in the airspace above, commercial and residential buildings.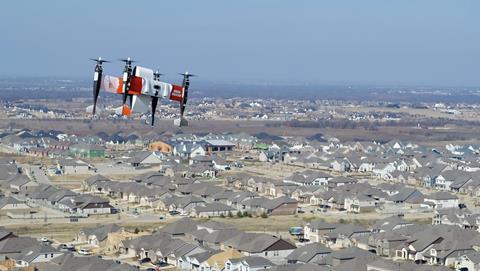 "The APT reached a maximum altitude of 300ft above ground level," says Bell. "Its route included flying near I-35W and miles of unpopulated fields as the aircraft transitioned in and out of Class D and Class G airspace".
The demonstration flight lasted only about 5min, as the APT 70 reached a cruise speed of between 52kt (96.5km/h) to 60.8kt. The unmanned air vehicle carried a representative package of 2.27kg (5lb).
The tail-sitting APT 70 launches and lands vertically. It transitions onto its wing for long-range flight. The drone has four electric-driven rotors, is capable of speeds more than 87kt and has a payload capacity of more than 31.8kg. Bell envisions the cargo drone could be used for a variety of missions including critical medical transport, disaster relief and military resupply, among others.
"[Third party logistics] middle mile and near last mile use cases continue to be of interest due to the scale of operations," the company says. "However, Bell envisions a broad range of potential applications and use cases across multiple existing and emerging industries."
The company says the drone's payload area is modular and can be configured to carry packages up to 76.2cm x 114cm x 68.6cm (30in x 45in x 27in) in size.