Transport Canada has approved the first unmanned air vehicle (UAV) flight beyond visual line of sight using onboard detect-and-avoid sensors, a development bringing long-range commercial drone flights one step closer to reality.
The regulatory agency granted the beyond-visual-line-of-sight Special Flight Operations Certificate to drone operator MVT Geo-solutions of Quebec, which offers aerial lidar, photogrammetry and thermography land mapping services.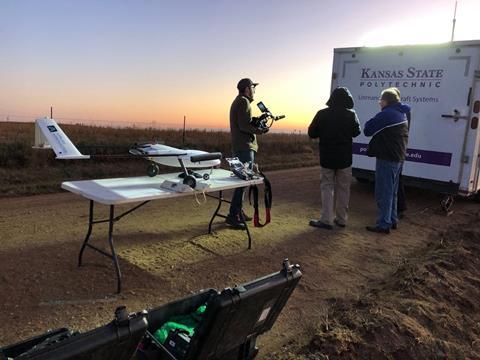 The company's UAV, an Applied Aeronautics-made Albatross fixed-wing aircraft, will use a detect-and-avoid system made by Iris Automation called Casia, says Iris of San Francisco on 26 March.
The Transport Canada waiver permits flights within a test range in Alma, Quebec, a town about 161mi (270km) north of Quebec City, Quebec. The flight would be conducted without ground-based observers or radar, relying instead on the UAV's detect-and-avoid technology.
Iris's Casia detect-and-avoid product uses an electro-optical camera, processor and computer vision software to see the airspace around the drone and avoid collisions.
After training and flight testing, Iris says it plans to seek approval to conduct infrastructure inspection flights in Canada.
In November 2019, Iris received permission from the Federal Aviation Administration to conduct the first beyond-visual-line-of-sight drone flight in the USA. With the approval, the firm and its partner Kansas State University Polytechnic flew along a nine-mile track (14.5km) in rural Kansas to evaluate power line inspection technologies.
Canada's large mineral extraction industry, including the mining and oil and gas sectors, combined with the country's vast landmass, could present an opportunity for long-range drone inspections. There are even greater opportunities in the USA, says Iris.
"One popular Goldman Sachs reports lists the US market potential in 2021 as $45 billion," says the company. "Canada is about one-twelfth the size of USA in terms of GDP. We expect [beyond-visual-line-of-sight UAVs] to be about 80% of total drone operations, so around $3 billion."